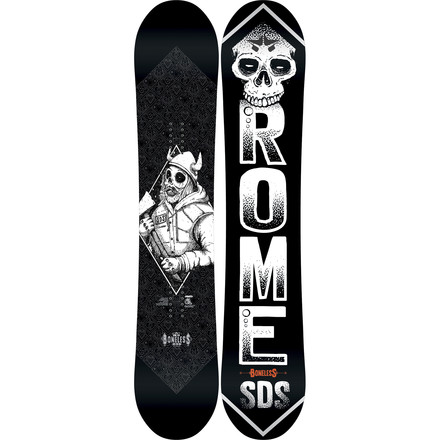 Shred the mountain like it's your own personal skatepark with the Rome Boneless Snowboard. It features skateboard-inspired construction and a playful profile for freestyle fun in the park, streets, and off every bump and side hit on the hill.

The revolutionary NoHang-Ups Rocker profile features a large flat area underfoot with concave rocker zones at the tip and tail that lifts the contact points off the snow to cut down on slams while still providing a large, stable platform for loading up ollies and locking into rails. Horizontally-laminated wood plys give the core a buttery, torsionally-soft feel, and Skatecore Profiling makes the core thinner between your feet and thicker from the bindings to the tips for skate-like turns and tweaked presses. The QuickRip sidecut features additional contact points near the bindings that allow the board to feel loose at low speeds while still maintaining edge hold at speed.

Biax glass keeps the flex consistent for smooth turns, and a Hotrods single glass barrel running down the middle helps you pop higher ollies. A twin shape allows for easy switch riding, and the Boneless is finished off with an extruded base that's easy to repair after you put a beating on it in the streets.
Flat profile with 3D-concave rocker at tip and tail
True twin shape
Hotrods Glass Single Barrel
StraightBiax biax glass laminate
QuickRip sidecut
4-Ply Core Matrix wood core
Skatecore profiling
Impact extruded base