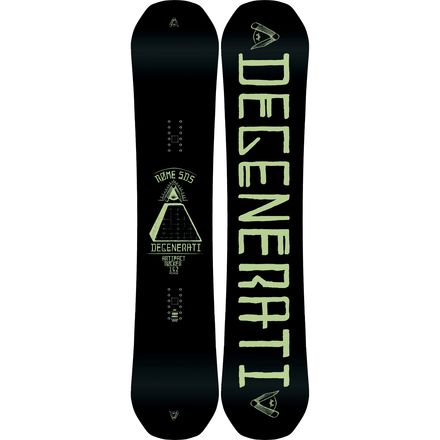 Description
Ollie it, press it, stomp it.
Attention big-footed park rats: the Rome Artifact Rocker Snowboard is your dream come true. Featuring a true twin shape, super buttery flex, and Rome's FreePop Rocker camber, this board is built specifically for park rats and jib monkeys. The board's FreePop Rocker camber features a small flat section in between the binding inserts for balancing on rails. The rest of the board is rockered, from just before the inserts out to the tip and tail. This makes for easy presses and an extremely buttery flex. And with its wider waist, the Artifact Rocker Wide takes your mind off toe- and heel-drag so you can focus on the park.

Beefing up the durability of a board that's built to be destroyed through sliding, pressing and MJ-ing, Rome has added Glass Impact Plates underneath the bindings to reinforce the core. A Hotrod Glass Single Barrel has also been inserted into the core for spring-loaded ollies and nollies. Adding a bit more edge hold to a super-buttery board is crucial, and Rome has placed Quickrip sidecuts on the Artifact Rocker to give it more grip when you're hauling down icy park runs. This technology also allows your board to turn like a more playful, shorter board when you're riding at slow speeds.
True twin shape
FreePop Rocker (flat underfoot with rockered nose and tail)
Stomp Core (100% full wood core)
Skatecore profiling
HotRod Single Barrel
StraightBiax laminate
Quickrip sidecuts
Rebound Sidewalls
Impact Base
Artifact Rocker in Beer and Rails