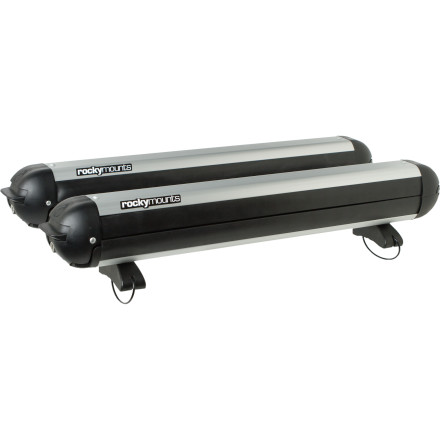 Detail Images

Community Images
The RockyMounts Liftop 6 Universal Ski Rack is an equal-opportunity transporter. And in more ways than one, being that it carries skis and snowboards (6 pairs of skis or 4 snowboards) and fits to any brand of rack out there, including all factory racks. The Liftop 6 attaches to your vehicle easily and is a cinch to operate.
Adjustable height accommodates for varying thickness in skis (and poles) and snowboards
Includes universal mounts, two RockyMounts locks and keys, insert plates for slotted crossbars, and optional spacers for added roof clearance
Streamlined design won't look obtrusive on your car
Not quite 6 skis
Familiarity:

I've put it through the wringer
Fantastic racks for your vehicle, however, unless you are doing some cross country or super S skiing for the day don't expect to fit 6 pairs in there. We can fit 4 powder skis side by side or 4 mid-fat and fat skis staggered with one more pair barely fitting in the rack. Still, this is an excellent rack, good locks, easy to open and close, easy to install, keeps everything nice and secure. Looks good and keeps your skis secure, so they're pretty legit.
Has anyone used this on round bars, and...
Has anyone used this on round bars, and if so, is it stable?
Yes. Was fine on some Xterra round racks. No rattle or movement. I kind of liked the round racks and leaving them a tad looser than fully locked down because when skis were in them they were rock solid and didn't move a bit, but you could spin them into a more aerodynamic position for cruising when you don't have your skis on top (90% of the time for most people) without having to adjust anything.
Good mounts with one caveat
Gender:

Male

Familiarity:

I've used it several times
I have used the Liftop 6 rack now a couple of times, and generally it works well. Installation was pretty straight forward, and the instructions are clear. There are also a number of additional spacers and screws included should you need additional room on your rack to mount taller bindings, etc. but I did not need to use them (I mounted the Liftop 6 on Thule square bars that are on the factory-installed rails on my Jeep Patriot). I also liked that they are from a Colorado company, although I couldn't find any labeling to indicate that they were actually made in the US.



Only downside I see is the exposed mounting cable on which other reviewers have commented. There is no getting around the fact that someone with a sturdy pair of wirecutters could snip these cables pretty easily, so I'm not sure I'd leave my skis overnight in an unlit parking lot in these racks. That said, if someone with a hacksaw blade was motivated they could just as easily cut the mounting straps on my Thule bars. Nothing is going to be completely foolproof, but for the money these racks are good value.
Quality Rack and Great Price!
Gender:

Male

Familiarity:

I've used it several times
Great Rack, love the easy latch mechanism.
Has anyone been able to get this mounted...
Has anyone been able to get this mounted on a 2000-2004 Nissan Xterra? The crossbars seem to be too big for the cable to fit around.
If anyone's still curious, I had to get a long bolt kit that Rockymounts makes and sells separately. You could also probably pick up some nuts and bolts at a local hardware store to make it happen.
LiftOp Euro Mounting Option
A great mounting option for European cars like VW, Audi, BMW, Mini and Volvo factory crossbars as well as Yakima Whispbars and Thule Aeroblade
Great!!
Gender:

Male

Familiarity:

I've put it through the wringer
Awesome rack. hauls all of me and my buddies stuff when we are heading up to the mountain! the built in locks keep it safe around town. This rack is so easy to install and very aerodynamic. Definently worth buying over yakima or thule.
When the rack is locked, can you access...
When the rack is locked, can you access the screws to the mounts? i.e. is the rack locked to the crossbars while locked or could someone just take the whole rack off?
Best Answer
There is a screw that is only accessible while the rack is open. You tighten that screw which forces the plastic cover closed so Yes the rack would be locked to the crossbar.

However, the downside with the cable mount is that I imagine it would be fairly easy for someone to come and cut the cable.

However, if you have aerobars and use the T-Channel mount then I think would be nearly impossible to steal the rack(You can always steal both the rack AND the crossbar together though),
Real solid rack. They are a little on the big side, but I think they look sick. Only thing I didn't like was putting the mounts on, it was a little confusing but I quickly figured out what to do. Most def recommend
How wide is the rack? I have limited space...
How wide is the rack? I have limited space due to a bike tray so wanted to see if this one would fit.
I just went and measured for you. The rack is 30" across and 21" from the outside edge of one mount to the outside edge of the other.
Awesome rack for a killer price
Familiarity:

I've put it through the wringer
The Rockymounts Liftop 6 is heads and tails above the rest of the rack pack.



I have them slot-mounted on a set of Thule AeroBlade load bars. They fit perfectly, mounted without issues, and are super-solid. Plus, they look slick.



But, here's why these are awesome:



1) They start off way cheaper than similar products from Thule or Yakima. The Backcountry sale price is even better.



2) They're more aerodynamic than Thule and offer the slot mount that Yakima doesn't.



3) They come with locks! That saves you even more coin.



4) The included risers are much more solid and an overall better solution than the extensions that Thule and Yakima sell.



I already like the idea of supporting a local, Colorado company. It's even better when they give me a superb product and make it easy to select them over the competition.
Is this a lift-op 6 or a lift-op 4? Mfg....
Is this a lift-op 6 or a lift-op 4? Mfg. indicates the lift-op 6 fits 6 pairs of ski. Backcounty description indicates 4 pairs.
I have this item. It's the Liftop 6. The description indicates 6 pairs of skis or 4 snowboards.
THIS one is a 6--holds 6 pairs of skis or 4 boards. RockyMounts also makes a 4--holds 4 pairs of skis or two boards. I use the 4 x2 so that I carry either 4 boards or 8 pair of skis.
It is supposed to fit 6, but we have a set and can only fit 4 pairs of skis (all big powder skis) and the only way you are fitting 6 is if you are riding skinny skis, otherwise consider it a comfortable 4 or a tight 5 capable mount.