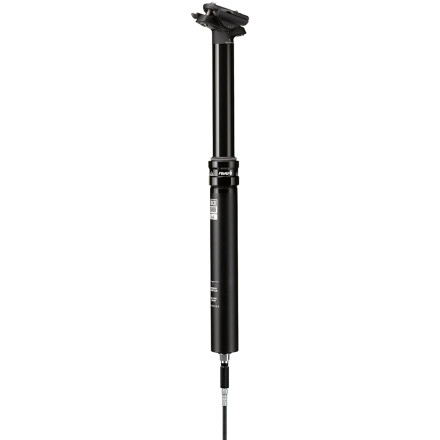 Colors

Detail Images

Community Images
Description
The convenience of a dropper post, with less to flap in the wind.
Dropper posts have gone and changed the way we all ride mountain bikes, and we won't be going back anytime soon. Even the kinda-clumsy iterations worked well enough that we were happy just to be riding faster, never mind the loop of cable buzzing our tire. And then RockShox came along with the Reverb Stealth Seatpost. The hydraulic hose on this Reverb is "stealth" routed, meaning it heads up the seat tube and connects to the post there. It's a bit trickier for initial install, but it's well worth it for both functional and aesthetic reasons.
That hydraulic hose is also what enables the Reverb's infinite adjustability — you just stop pressing the button and the post stops. No looking for the next detent, sitting down and having it drop unexpectedly, or anything like that. It works like you'd hope every dropper post would. RockShox makes it available in both 125mm and 150mm lengths — choose based on how much post is currently sticking out of your frame. If it's less than 160mm or so, opt for the 125 length.
Hydraulic hose routes through the seat tube
125 and 150mm lengths
Infinite adjustability
Two-bolt head
Unanswered Question
what is the minimum height of the post when fully extended? (equivalent to the height fully extended when slammed against the seat tube, or the height from the bottom of the ring in the middle to the top of the post) tks!
Installed on Juliana Joplin
Familiarity:

I've used it several times
I took my time but was easy to install on my wife's MTB (which was also bought from BackCountry). Even with tight,internal hydraulic lines, I left enough play to allow 3 or so Inches of Frame/Post adjustments. So much nicer than my mechanical, non-stealth Giant dropper post.
Do these come with the connectmajig?
Hey Derrick,



The RockShox Reverb Stealth Seatpost comes with everything you need to install it on your bike frame, as long as your frame can accommodate stealth routing. By connectmajig I am assuming you are talking about the handlebar lever or maybe the seatpost clamp? Feel free to contact me directly if you have additional questions on the RockShox Reverb and I would be glad to help you figure out if it comes with what you need,
Kyle,



The connectmajig is a quick release collar that connects the hose to the bottom of the post. This is so the post does not have to be bled every time the post is disconnected.



So far some reverb stealth does come with it and some do not.


I have not been able to identify those with this and those without the connectmajig but if you google the word you will see exactly what I mean.
Hey Derrick!



These guys ARE shipping with the connectmajig.



Ben
Unanswered Question
How difficult is this product to service by a consumer? Is there a rebuild kit available? What is the turn around time for warranty repairs?
Get a dropper
Familiarity:

I've put it through the wringer
This review is less about the Reverb in particular, and more about dropper posts... GET ONE. I've been guilty of slight weight weenieness in the past, and considered a dropper a luxury for downhillers that's not worth the weight going up, but now I see the light and won't build another bike without a dropper. The mobility you gain on the downhill by getting the saddle out of the way is a big boost to your confidence and fun factor.
Luxury? It's a necessity
Familiarity:

I've put it through the wringer
I could switch out a lot of components on my bike without much second-thought, but not my Reverb Stealth. I'd put up a good fight to keep it on my bike.

I was surprised how much of noticeable weight was added to my aluminum frame Bronson. Honestly, I could offset the weight by losing a few pounds myself.

I'm addicted to the added benefit and you will be too! I put the 30.9mm diameter, 380mm length, 125mm travel, right on my Santa Cruz Bronson
easy
Familiarity:

I've put it through the wringer
I think the argument whether or not dropper posts are a good or worthy development in mountain biking has been settled (they are), so I'll spare you and say that I've had two Reverbs and have never needed to service or warranty either. I'll also re-iterate JTrue's Pro-Tip as I made this mistake once: Order the right hand version and mount the clamp on the left side upside down. Keeps the remote trigger protected

I have seen a few come back through the shop and have had good luck getting rockshox to replace them.
So far so good
Familiarity:

I've put it through the wringer
As most other reviewers have mentioned, the upgrade to a dropper post is AWESOME. Definitely the best upgrade I've ever made to a bike. This post is easy to install and you probably won't have to re-bleed the hydraulic line as part of the install as long as you're careful. I'm about a 4/10 in terms of mechanical savvy when it comes to my bike and I was able to install this in about 15 minutes with no hiccups. One thing to watch out for is the torque spec on the seat collar. If you over tighten the collar you can cause the dropper post to jam up a bit and get choppy on the rebound. Backing off the torque on the seat collar a little bit clears up the issue.

As far as the function of the post is concerned, I've been pretty happy. I've had the post on my bike all summer and I haven't had any major issues. The rebound speed is easy to adjust and the post still locks in solid without any up/down or rotational play. The one thing that I have noticed is that if I leave my bike sitting for a while between rides, the dropper can get somewhat stuck in the 'full up' position. I've never had it totally stuck, but have had to push extra hard the first time to make sure the post drops correctly and smoothly. Not a deal breaker yet, but does give me a little bit of pause about how long it will be before I need to get it serviced.
game changer
Familiarity:

I've put it through the wringer
these things seriously make a world of difference, one day all bikes will come with these (i hope) but for now if you have the extra cash laying around, GET ONE! no more stopping on the trail to adjust a seat post. its all at the finger tips.
Have these on all my bikes, no issues so far, reliable and durable. Pro-tip: Order the right hand version and mount the clamp on the left side upside down. Keeps the remote trigger protected!
So Far So Great
Familiarity:

I've used it several times
I've had the reverb on my Nomad for about a month now and I'm very happy with it. I got the right-hand lever model and flipped it to use on my left side for a better feel. It actuates just as it should and has a very straightforward bleed-process.

The one thing I don't like is the location of the bleed port. I understand why it's located there, but being on the bottom of the post it takes some time feeding cable through the tight frame routing seals in order to remove the post and perform a bleed.
Lightning fast changes but good and bad.
The dropper is really a great product and by far the best out there. Its allows for super fast changes on your riding terrain without even thinking about it once you get used to it.



It does beat the extra time it takes to normally change a seat post for sure but if your not riding mostly descents I have to say that the weight of the post effects your riding far to much for the benefits.



I say this because if you add 3lbs roughly to the back of any great bike its going to affect its pedaling greatly. I ride mostly XC and AM and my riding suffers from it on the XC and light AM because of the weight. I have never been a weight weanie for anything but when I added this to my bike it really changed my riding on certain terrain for the worst.



If backcountry had their old return policy I would return it for the cable version because switching it out would be easy and fast and worth it for certain rides. Now I just put up with it but my flicking the bike around and climbing suffer from its weight.



I recommend the post for sure but go with the standard version if you want the option of changing your riding styles and posts. For every plus there is a minus...
Pretty damn cool!
Familiarity:

I've put it through the wringer
Thinking about dropping $455 on a seatpost? Don't get carbon, get this seat dropper! It's a lot to put down on a seatpost, but so is your ass so stop complaining.



Truth be told, seatpost droppers allow you to stay on your bike longer, and as a result, allow you to have more fun on your days away from your 9-5 office job.



Amongst all the seatdroppers in the world, the Rock Shox Reverb is the holy grail. Durable, sexy, and adjusts like butter. If you are considering a seat post, consider yourself foolish if you do not get the Reverb.
Love the post, too much work
Familiarity:

I've put it through the wringer
I purchased a Santa Cruz 5010 a couple months ago which came with the Reverb Stealth, and like everyone told me it has completely changed my riding. That really frustrates me, because this seat post has become a pain. The seat has locked out in the up position multiple times, requiring bleeding the system. At first I thought I was just doing it wrong, but I took it to a great bike shop and they fixed it, only to see the problem a couple weeks later.



Great piece of kit, if you can keep it working.
Stay Seated - Ladies and Gentlemen.
I've been using my Reverb Seatpost for about a month now - and there's no way I could ever go back to a regular ole seatpost.

Simply couldn't hack it.



I'm a fairly poor climber, so anything I can do to boost my efficiency is highly desirable. I absolutely appreciate the ease and simplicity of changing the seatpost height, especially here in Utah as the terrain is so varied. There are tons of rides where the trail is mixed climbing and descent, so the seatpost is worth it's weight in gold.



I absolutely do not miss the hassle of hopping off and adjusting the height every time I find myself climbing or descending. And now I pity my riding partners who are chained to this effort



Sometimes I feel like it's cheating!

I'm saving up to purchase one of these for my mum.

She has NO idea what is coming, best Christmas ever.
Excellent
Familiarity:

I've used it several times
This is the second dropper post I've used & much like the other it simply works. However this dropper post is better in many ways. The infinite travel is one way it is better. Also the force the dropper post extends at is much less aggressive which makes this a lot safer for the male anatomy. Lastly it is responsive. I push the button & it drops. I push it & it extends. There's no lag or forceful pressing to accomplish the desired task.



Overall this dropper post does exactly what it was intended to do but it does it much better than what I'm used too. (Specialized Command Post)
Changed Riding forever
Familiarity:

I've put it through the wringer
I recently got back into MTB and several of my friends recommended a dropper seat post. I was skeptical especially at the $450 price tag. After a ton of research, I decided on the Reverb Stealth. I was concerned about shortening the hose since its a hydraulic system, but with some youtube help, and the bleed kit that came with the seat post, this was a simple task that took about half an hour. I love the "stealth" cabling through the seat tube. This system also allows you to set the speed of the post as it drops or rebounds to your liking. I have had a pretty solid crash that ripped the saddle off it's rails, but the post was perfectly fine. This is a 5 star product in my opinion and for a tall guy like myself, worth every dollar being able to adjust on the fly to the trail.
So Cool! (when it works)
Gender:

Male

Familiarity:

I've put it through the wringer
I am not an Enduro, big air, lift rider. i like long days in the dirt and the occasional XC race. I have never used a dropper post before because I didn't think I needed one. Man was I wrong! The control and confidence you get dropping your post on the steep stuff is really amazing. I am really tall and have never felt super comfortable rolling drops since my seat is 10" higher than my bars. Now it is no problem. So glad I gave this a try.



UPDATE:

Like others have mentioned here the durability of this post is terrible. I have to bleed it at least once a month. After about 400 miles on the post it began to sag when fully extended. This requires sending it back to SRAM, it is not serviceable by a dealer. At this point I am done with anything that SRAM makes that has seal. (my rear shock blew it's seals after less than 500 miles) Horrible quality and terrible service.
Invisible cable routing is stealthy, yes, but so is having only two clamps on your bars for four controls...the remote will integrate with Avid brake levers and shifters for a super clean setup. The post itself is a breeze to install and bleed, and will run forever with little maintenance. Very, very happy with mine.