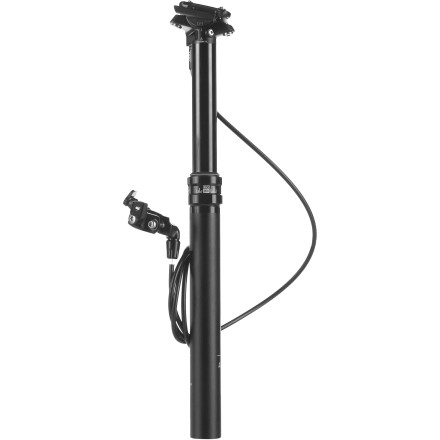 Colors
Description
Fluid movement for those flow trails.
No stranger to hydraulics, RockShox uses the technology instead of a mechanical connection for its Reverb Dropper Seatpost. And while at one point, the idea of hydraulics on a bike seemed otherworldly, your disc brakes, inarguably the most important component on your bike as far as safety, are most likely hydraulic. Unlike cable systems, they are less likely to become contaminated. The post uses a 2.5-weight oil and the fluid in the lines controls the main valve that drops the seat. The XLoc remote, the same as is used on RockShox's fork, allows easy control straight from your handlebars.
With RockShox's extensive knowledge of suspension, contamination of the fluid isn't a concern. The seals fit the same as fork seals and an Internal Floating Piston (IFP) prevents the oil from mixing with the air preload. Both make the Reverb friction-free for fast, reliable movement. The post itself is 7075 Aluminum. The seat position is adjustable fore and aft and for tilt using two bolts.
7075 anodized aluminum
Internal Floating Piston
Zero-offset post
XLoc remote is compatible with Matchmaker X mounts.
Game Changer
Gender:

Female

Familiarity:

I've put it through the wringer
I love love love my Reverb Dropper Seatpost. I've had it for the past few months and haven't had any issues with it besides it making my rides way more enjoyable. Can't believe I went so long without one. The Reverb seemed pretty easy to install (husband installed it for me one evening with no issues, it was his first experience installing a dropper). The push lever to drop and raise the seat doesn't take much force so it's really easy to use while riding. Also, it's great that it's infinitely adjustable versus only having only 2 to 3 specific settings. I did a ton of research on which brand to buy and I'm happy I went with this RockShox. Make sure to order the exact size for your bike, since I'm a smaller female BC.com didn't actually have the correct size and they recommended me to find it elsewhere. Thanks BC.com!
Probably the best thing I've bought...
Familiarity:

I've put it through the wringer
The RockShox Reverb Dropper Post is probably the best thing I have bought for myself all year, it's truly a game-changer. While it's relatively easy to justify not buying one, I can assure you that if you do decide to pull the trigger, you will not be disappointed; you'll be wondering why it took you so long to make the decision. Having the ability to customize the seat height mid-ride is what it's all about - you'll be faster on the downhills and just as fast on the ups.
I have an XL tallboy 2 and am 6ft3". Which length reverb post would you recommend? 100mm drop or 125mm?
Hi Geop, I bought the 125 mm to have bigger amount of drop! I think, as you are tall, the 125 mm will be better!
Reliable dropper
Familiarity:

I've used it several times
Just got this dropper and it is super sweet, Couldn't be happier with how easy it was to set up and how well is works. Definitely would recommend to a friend, but the only downside is the cable attaches at the top of the post so when it is all the way down it kind of gets in the way, A few zip ties does the charm keeping it down. Love it overall though.
Great Dropper
Gender:

Male

Familiarity:

I've put it through the wringer
I've had one of these for about 8 months now and I am very pleased with the continued top notch performance. It operates as smoothly and reliably as the day I installed it. Installation is very simple (there are some great instructional videos out there), and if done carefully, it is not necessary to bleed the actuator hose. It can take a little bit of time to get the routing just right and to set up the hose "loop", but there are several ties and a neat hose guide included with the unit.



I have recently purchased a new bike and outfitted it with the KS Lev dropper. While the KS is a solid piece of equipment, I believe I prefer the Reverb - it just seems to operate a little more smoothly and never sticks, whereas the Lev sometimes needs a little "bump" to unstick it when it has been in the down position for awhile.



As others have said below, if you have room (ie no front shifter on the left side of the cockpit), it is a great idea to order a right hand trigger and place it under the left side of the handlebar. Make sure this will work for you though as the trigger is left or right side-specific. Also, make sure you order the right length.



One thing is certain...I will NEVER not have a dropper post again. It has improved my riding and increased my enjoyment. I use it constantly, and once you get accustomed to it, you'll find yourself moving your seat up and down unconsciously.



Keep the rubber side down
Right on the money!
Familiarity:

I've put it through the wringer
Woah, I knew I should have bought one of these sooner! Just couldn't sacrifice spending the money, as they are pricey! But, unlike other things, this was money well spent! I wouldn't know what to do without it now. Was easy to setup, shorten line, and bleed. Very simple! So far, this product has been reliable, no issues what so ever! Just a FYI, there is a slight side to side movement of the saddle once installed. This is normal, and cannot be felt while riding.
Add more cables to your bike
I was so stoked to get a dropper after years of adjusting my seatpost with a quick release multiple times during a ride. It took a little getting used to. On my first ride I accidentally shifted when I tried to raise my seat on the fly. I could see why people would get the right handed option and put it on the left for when you flip your bike upside down to clean it. I haven't had an issue yet with the long loop of cable that expands and contracts every time I adjust my seat. It does require a little extra care when you throw your bike on a stand though.
Good Dropper
Familiarity:

I've used it several times
*remember to order opposite side lever if you plan on mounting under your bar.
Hey Kyle,



Based on our info it looks like we should only have the 2014 model in at this point.
Decent Dropper
Familiarity:

I've used it several times
I like this dropper but there are some things that it could do better. The action and the adjust-ability of the seat post is great. I prefer to flip the lever over and mount it upside down on the handlebar, which allows for you to push the button down more easily and also protects the button if you flip your bike and need to place it upside down to do some quick field maintenance. This is the great part of the reverb, the only thing I don't like is that the hose attaches to the top part of the seat post which move the entire hose when you change the height of the seat post. The KS Lev has the hose mounted at the base of the seat post, close to the seat post clamp which holds the hose more static during use. The stealth version of the reverb does not have this problem but the normal reverb does. All in all it is a solid dropper. If you have any questions about this or any other dropper please give me a call and I would be happy to talk to you about them.



Here is my contact information: My direct line 801.736.6396 ex. 4389. Feel free call to me anytime, I?m always happy to talk about bikes or gear or the weather. Whatever works! I?m here Mon, Tues and Friday 1:30-10pm MST and Saturday 9-5:30 as well as Sunday 10-7. I look forward to speaking with you.
The image shows the "stealth" version, but...
The image shows the "stealth" version, but the title and description don't mention that feature. Is it in fact the "stealth" model? Also, if I order it even though it's not currently in stock, how long does it take to actually get it from the distributor and [ultimately] to me? Are we talking a few weeks or will it be months? TIA.
This is not the stealth version. The stealth version's cable goes directly into the bottom of the post.