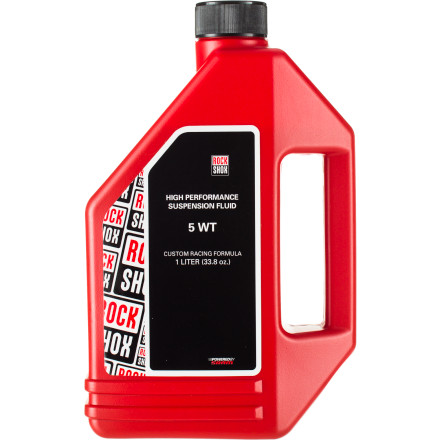 There are many stories about the difference differing oils can make in your fork. RockShox only recommends their oil in their forks. They also say you should only go with the oil weight recommended as well. For the most part, the plentitude of adjustments that are given should be enough to tune the fork to your needs. All of RockShox's current forks use 5 weight oil, but some older forks have different needs. And, just to prove there's an exception to every rule, 2002 Boxxers can have their oil weights changed. Before buying oil, consult your owner's manual, and, if you lost that, check the web. Once you have that info, order the correct weight. When adding oil, precision is usually a good thing; so a syringe or two-stroke oil mixer can help with the job.
Please click here for the RockShox oil level and weight table.
What do you think about this product?
Have questions about this product?
Necessity.
Familiarity:

I've put it through the wringer
Rock Shox makes it incredibly easy to rebuild your fork. You should follow the correct manual for your fork found http://www.sram.com/service.

Below is an example for the Revelation. You need this oil to do the job.



Maintenance interval are the numerics in ride hours.

Change Speed Lube oil bath 25

Check front suspension fasteners for proper torque 25

Clean and lubricate remote lockout cable and housing 25

Remove lowers, clean/inspect bushings and change oil bath

(if applicable) 50

Clean and lubricate air spring assembly 50

Change oil in damping system (including hydraulic lockout) 100

Clean and lubricate coil spring assembly (coil forks only) 100