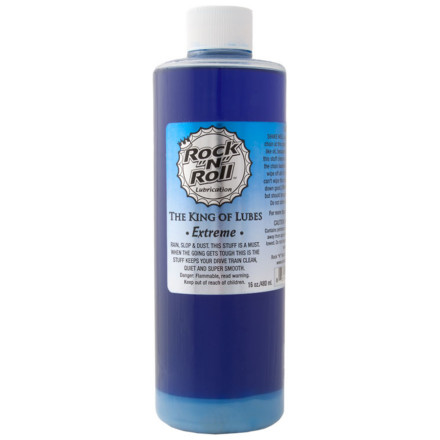 Colors

Community Images
Description
Oh baby, you're so viscous.
The stickiest, thickest lube that Rock N Roll makes, Extreme Lube is intended to keep your chain silky in the gnarliest, nastiest conditions, from ruinous 'cross races to sloppy enduro stages and the pig-sty slop of a muddy DH race. The synthetic lube contains a suspended gel membrane that seeps into pins and rollers to keep things your chain smoothly and your cogs de-gunked.
Suspended gel membrane
16oz
Very very messy, like water
Familiarity:

I've used it once or twice and have initial impressions
My initial impression for a clean road bike. This came in a plastic bag in a box and was already leaking. It started off messy and then trying to fill the smaller bottle was a difficult mess. It settles, so you have to shake it before every use. I am use to a chain oil that you can direct where it drips but not this product. It comes in a 16oz bottle because you will waste half of it leaking, dripping and filling the smaller bottle. I hope this works as well as they say for all the hassle. So far I am not impressed.
Best all purpose lube so far
Familiarity:

I've put it through the wringer
I tend to use blue in spring and fall and winter and pull out the gold for summer. Red for my shorter rides when dry. All rock n roll lubes work incredibly well. Never turns thick and black. Only lube that comes close but difficult to find is "absolute best lube" but it doesn't clean your chain like rock n roll
Good so far
Familiarity:

I've used it several times
Used both on Mt. and Road bike. Used pedro and white lighting and this stuff is similar to the white lighting. Does not gunk up like pedro's. Like they say it cleans and lubricates. Pretty soupy so have a rag under while applying. Have not used in a muddy environment yet. Good for the price!
This bottle should last a while.
I've used Pedros and White Lightning in the past. Rock N Roll Extreme is better than both. I bought a smaller bottle of it last Summer and will probably refill it from this one so I can have a more portable supply.
Like Dominick stated, this is great stuff. I like the smaller bottle to use for application of the Extreme Lube. When I got the large bottle, I had to shake it up for a minute to mix it together which was a little different for me. I too am a Park City based mtn biker, lots of dusty trails on the cross-country trails I seek so this stuff is ideal. Nothing like having well lubed equipment for excellent performance.
Go-to choice for mountain chain lube
Gender:

Male

Familiarity:

I've put it through the wringer
I *love* Rock n' Roll lube.



It lubricates really well (although perhaps not absolutely as little friction as the best conventional lubes) but it lasts and lasts, and keeps your chain nice and clean. I ride mostly in dusty conditions, and find that the regular wet, oily lubes are like a magnet for dirt.



I've tried other waxy lubes (Pedro's Ice Wax and White Lightening) and think this is way better. Pedros seems just to turn into sticky gunk, and the White Lightening interacts horribly with other lubes.



The blue, "extreme" version of Rock n' Roll is intended for mountain biking in nasty, muddy conditions. But I've found it works well in all conditions. So unless you a a major bike geek, and keep a library of lubes for different days, this should be your go-to choice.



It comes in a giant 16oz bottle, along with a much smaller (empty) bottle with a drip nozzle, so you can decant some into the more convenient size.