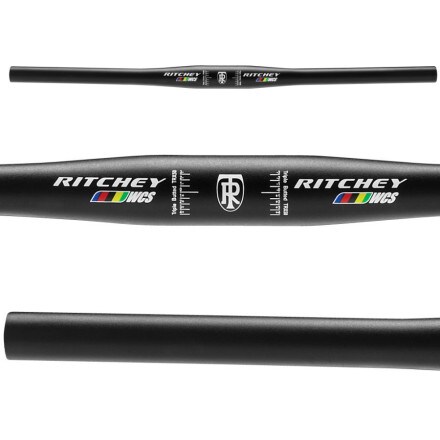 Description
Don't worry about that bandwagon, it's full of risers and people who don't come in 1st.
The Ritchey WCS Flat Bar is the winningest handlebar in World Cup cross-country history. The OS version is a stiffer, stronger version of the 25.4mm diameter original. It is light, simple, strong. Best of all, it's barely heavier than its blingy carbon cousin at a fraction of the price. It's hard to go wrong here. These bars work. And last.
The Ritchey WCS Flat bar comes in 31.8mm handlebar diameter. It is 580mm wide and has a 5 degree rearward sweep. Ritchey recommends using only Ritchey or Syncros stems with this bar, as any others will void the warranty. The bar is made from seamless TRX50 triple-butted aluminum. It is bead-blasted and anodized for better fatigue strength. 140g.