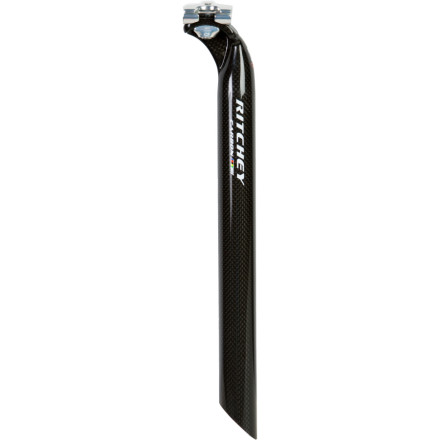 Detail Images

Community Images
The Ritchey WCS Seatpost has long been a mainstay here. It has tons of setback -- 25mm. And its two-bolt head provides security for even the biggest riders on the roughest of roads. Though Ritchey produces an alloy post that's identical save for the material, this carbon version offers up serious weight savings -- about 44g in comparison to the standard. ~170g for the 27.2mm version, and ~210g for the 31.6mm.
Initially I was worried about a carbon seatpost, but after several thousand km's on it I havent had any issues. Still a bit nervous when tightening the clamp of my carbon seatpost with a carbon frame.

weighs slightly more than listed (like all bike products I have ever purchased) but all in all I would purchase again.
My review is for the One-bolt design. This is the two bolt version.
Great seatpost, but . . .
. . . I found it a dog to set up - it was really hard to get the saddle into the clamping assembly.

Took ages with the assembly coming apart several times (unlike most other reviews on the net).

Once done, everything was fine. Though more elegant, I prefer the two bolt design which is way more 'idiot-proof (speaking of a certain home mechanic)! : )
price is great, product is even better.