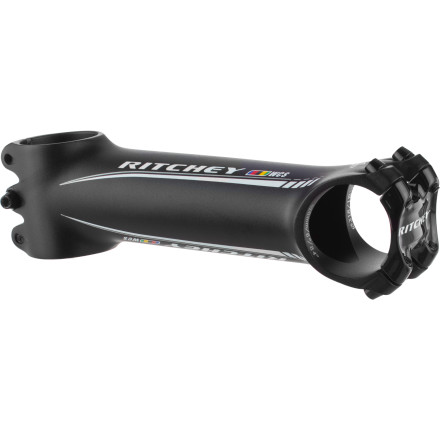 Alloy cockpits are preferred by many riders in the pro peloton because they inspire greater confidence in the event of a crash or impact, despite the slight weight penalties typically associated with alloy. Stiffness and vibration dampening are usually alloy's greatest nemeses, but with its WCS C-260 Stem, Ritchey has created a more compelling case for alloy. The WCS C-260 is a stem that is not only a full twenty or thirty grams lighter than the lightest alloy stems -- as well as many carbon fiber stems offered by most competitors -- it's also significantly stiffer as well. The WCS C-260 Stem is 3D forged from 7050 aluminum and then internally machined out to reduce weight. Combined with the 260-degree clamp, this stem gives you a significant uptick in stiffness at the aforementioned drastic reduction in weight.
If you look closely, you'll notice the stem's smaller faceplate profile and dramatic bolt angles. Ritchey managed to wrap the stem clamp a full 260 degrees around the bar, evening out the distribution of clamping stress through each of the interfacing pieces. Ritchey also opted to use stiff and lightweight M4-size CrMo steel hardware on the four-bolt faceplate and on the steerer tube clamp. The latter uses three bolts and a specially engineered curved slot to reduce excess clamp stress on carbon fiber steerer tubes and to further enhance the design's overall rigidity.
With to the stem's innovative 260-degree bar clamp, you'll notice that the horizontal opening for the bars between the base and the faceplate is significantly narrower than most stems (which typically open around 180 degrees or so). To mount the C-260, you'll simply need to remove the faceplate, and then slide the bars into place (you may need to first remove bar tape or any other obstructions). If you're still having trouble, this video from Ritchey should help simplify things. Note that due to this 260-degree clamp, the C-260 Stem works best with traditionally shaped alloy or carbon fiber bars.
The Ritchey WCS Carbon Matrix C-260 Stem is available in BB Black, Wet Black, Wet Red, and Wet White. Choose between lengths from 70mm to 130mm, in 10mm increments. It comes in +/- 6-degrees (an 84-degree rise) and in a 31.8mm clamp size only.
Stiff but at a cost
Gender:

Male

Familiarity:

I've put it through the wringer
I love the aggressive look and how solid it is. The finish is very nice and weight is as claimed. I used this for 3 seasons now and overall very happy. If you swap out the bolts and don't change your bars often, this is the stem for you. Great service from Ritchey BTW! Keep up the high quality standards!



To add, I paired this stem with Ritchey's Pro Curve bar. With the ovalized top, you can't just slide it through the clamp. You will need to fish it through the 260 clamp by rotating the bar or stem. Nate King's review below noted it won't fit but it does.



The questionable areas for me;

1. Stem bolts, they should have used stainless. Mine were rusting like mad from sweat.

2. The 260 makes is somewhat difficult to install shaped bars as you have to thread it through the opening.

3. New model comes with torque bolts as the allen head tend to get rounded.
Detail........you want detail for this post.........well.... the new "30% stronger area" needs stronger bolts(with harder metal heads} . Suggestion take your time installing(adjustment) Get it right the first time. ........at the same time request new bolts.
C260 - it's in the details
Familiarity:

I've put it through the wringer
As noted by Rusty G, you need to install this stem correctly. When you do, it works as advertised. Yes the 3mm hex bolts suck, but Ritchey made it right by sending me torx replacements. I believe the C260 ships with torx now. Anyhow, this stem is stiff! I noticed an immediate difference from the Axis model. For bars, I have the C260 set up with Ritchey WCS Curve shallow drop. With the 2015 version switching to the C220, I'd grab the C260 while still available.



g
100% Opposite of below review...
Familiarity:

I've put it through the wringer
I'm laughing due to the fact I just came onto the site to look at some winter kit and invariably click around to see if any reviews have been posted on some of the products I purchased here. Low and behold I see a review (just posted yesterday) on the stem I purchased early this past summer. Nice DB Podium by the way...



I will preface this by stating that I knew going into the purchase it was finicky to fit and isn't a typical stem installation. I read reviews, watched videos, made sure my bars were spec'd to fit, and was aware of the 3mm hex's and their fragile fitment. In the end I pulled the trigger on this stem due to it's looks, weight, price, great reviews (albeit the bad is only about the screws and installation), and to match my Ritchey carbon seatpost. I even reached out to Ritchey and had them send me the updated 3mm torx heads, but in the end, didn't need them and were sent free of charge. Plus some stickers. Love that. Kudos Ritchey.



It hasn't budged and, although, it did take more care than usual to install, I have had zero issues since I torqued the 3mm bolts to spec - and have received a few compliments and questions about the thing. For me installation was fun and do own some good tools. I can see cheap hex heads easily stripping them out and you must use a torque wrench. I can guarantee that when perusing reviews on this stem and reading about individuals stripping the hex heads they applied way more torque than needed. And most likely didn't use a torque wrench. 5nm is nothing. No carbon paste, but did apply a small amount of grease to the threads. I love wrenching on my ride. I take great pride in a well-maintained, clean, precise, and quiet machine. For those that aren't so inclined...I can see install being a hassle and annoyed. For better or for worse Ritchey's design here isn't all that compelling and necessary, but it looks pretty and works.



Be safe out there,



RG
Highpoint in Bike Industry Navel-Gazing
Familiarity:

I've put it through the wringer
Ritchey, Ritchey, Ritchey...



You thought you were just buying a "regular" stem, right? You know, one of those most basic - most simple - pieces of a modern bicycle. Ritchey is here to shock you, awe you, and absolutely disappoint you with this marvel of modern engineering, the C-260 stem. Reinvent the wheel? No, Ritchey has folded it in half, run it through a trash compactor, popped it out the other side, and presented it as a legitimate contender in this not-hot market segment.



If you read the copy, you'll note that - circa 1989 - you do, in fact, need to slide the bar through the mount instead of simply removing the stem faceplate. Classy. I'm sure there's a morphological reason, right? Oh, but Ritchey's own WCS Evo Curve bar won't fit in the clamp. So much for matchy-matchy. Another high point behind reinventing the wheel? Full 3mm hex bolts, so you can be certain to get the clamping force of a three year-old's tiny fingers on a monkeybar. Yes, even a torque wrench and carbon paste won't hold your bars in place as you roll over a manhole cover in a corner. Perhaps some epoxy should come with this engineering foible.



I guess it looks okay. And kind of matches my bike. Which is really like hearing a funny joke while all of your ribs are broken.