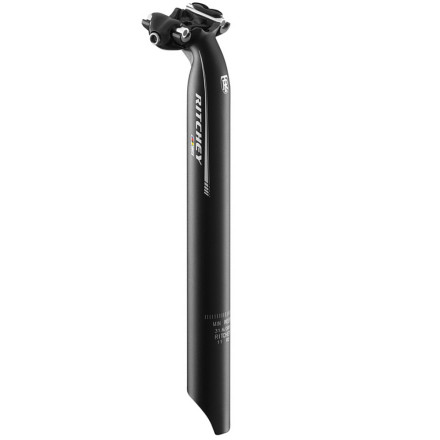 Ritchey has been influencing the functional design and aesthetics of components for decades with dependability, strength, and adjustability at the core of every design. The WCS 1-Bolt Seatpost with 20mm Setback embodies these values with its strong and sleek construction. Designed for world class competition, you'll be riding like the pros in no time.
The WCS seatpost uses the proprietary, forged-alloy, SideBinder seat clamp to secure the saddle rails to the post. The clamp system relies on a single bolt positioned on the side of the seat clamp, with the bolt's orientation promoting easy adjustments to nose angles or rail position. Ritchey's system differs from the status quo by securing the rails from the side and bottom, rather than compressing them from the bottom and top. This reduces stress on fragile carbon rails by requiring less newton meters of torque at the point of attachment. WCS' low-profile head also allows for optimal saddle clearance, and in conjunction with seatpost's 20mm setback, you'll be getting the exact fit that you've always wanted.
The WCS 1-Bolt Seatpost with 20mm Setback is made from Forged TR741 aluminum alloy and comes in the colors Ball Burnished Black, Wet Black, and Wet White. It is available in 350mm and 400mm length options and in 27.2mm, 30.9mm, and 31.6mm diameters.