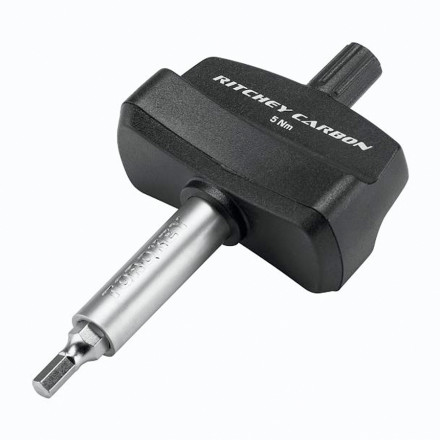 Community Images
The Ritchey 5nm Torque Key provides a quick and affordable way to ensure that the correct torque is applied to your Ritchey carbon bar and WCS stem combination. This wrench is preset to 5NM. Fortunately, though, there are a plethora of other bicycle components that require a torque spec of 5NM, so it's a very useful tool for those of us who don't own Ritchey components, too.
The Ritchey 5nm Torque Key includes 3mm, 4mm, 5mm, and T20 bits, and weighs in around 53 grams.
a must have in your bike bag
Familiarity:

I've put it through the wringer
super handy little torque wrench to keep with you wherever you go and not have to haul along an expensive torque wrench. Just buy one, you'll be glad you did every time you need to tweak something while out on the road or at a race
Low Cost Torque Tool
Familiarity:

I've put it through the wringer
Bought one of these to take on rides with me as it is small and light weight. Works great for many components on modern bikes (seatpost, bars, derailleurs, etc...). Nice to know you aren't under or over-tightening bolts on increasingly expensive items. I have the 5 Nm version. Check the torque specs for your bike and components before you order. I believe this tool is also available in a 6 Nm version, although I don't see that listed here.
Small Investment for Piece of Mind.
Familiarity:

I've put it through the wringer
Don't over tighten your carbon components with a guesstimate and a normal tool. Add this cheap torque key to your toolbox and save the hassle and heartache of damaged or loose carbon due to lack of precision tightening.
Never over tighten again!
Familiarity:

I've used it several times
Must have item in your saddle bag especially if you have a carbon frame or components. Those limits written on your gear must not be exceeded and this is the cheapest way to make sure you don't. Insert and twist until the clutch clicks. It's simple and reliable. Other keys are $30. This is a bargain.
Must have for carbon components
Overtightening carbon components can be expensive and dangerous. The Ritchey Torque Key is an affordable alternative to a torque wrench, plus it's small enough to fit in a saddle bag. It also comes with 4 different bits.
Great to have with the new bikes
Familiarity:

I've used it several times
Now that all the new bikes are carbon these days, knowing exactly how much you are torquing your stem, your seat post, etc. is really nice to know. I found that I was actually under torquing various components and this guy makes it easy to do quick adjustments. Works for all areas on the bike that require 5NM of torque. All you do is tighten the bolt of choice down and then when you hit 5NM, the tool clicks. Pretty obvious when you've hit the 5NM mark. Comes with a couple different sized bits but you could sub in any type of screwdriver bit from the hardware store.
Great Torque tool
Familiarity:

I've used it several times
this little tool works great for doing adjustments on handle bars, seat post and anything that needs a certain level of tightness and saves you from messing up your bike components .
This little sucker gets it done. Great for handlebar stems and seat-posts. Keeps your touch in check.
A must have tool
Familiarity:

I've put it through the wringer
Everyone should have this useful tool. Great for handlebars and seat posts.

The grip simply snaps once you reach the safe 5nm torque setting. Torque Key includes 3mm, 4mm, 5mm, and T20 bits. Love this tool.
Compact Tool Tricky to Use
Familiarity:

I've used it once or twice and have initial impressions
Question is about tightening using this key till the lever pops; reaching this level feels as if over tightening the screws and tricky considering grip. Please advice if that's the actual expectation / feel or is something wrong with the Torque Key?
Good tool to have
Familiarity:

I've put it through the wringer
I have a newer version of this torque key that bits are actually removable and it comes with four different driver bits. Tons of parts require 5nm torque, not just carbon components. You don't want to over torque and risk stripping threads or worse, and you don't want to under torque and have something work itself loose. Everyone should own one of these.
Simple tool that I use on my stem and seatpost bolts for my carbon parts. Tool basically "snaps" when you've reached the required torque and won't allow you to overtighten your bolts. Can't beat the price!
I have had the same torque key ever since our QBP rep droped one off at the shop I worked at years ago. It does exactly what it intends to, does it well, but don't expect it to do anything more than what it says. It is extremely handy for anything with 5nm torque settings, and with some work you can pry our the 4mm head and put in any other standard allen head. It doesnt replace a torque wrench for the rest of your tightening needs but is nice to have around. In terms of durability, it still works just fine after all these years and to my un-scientific eye has not lost its accuracy.
, ☃bcs_badge_alumni_label☃
This guy should have had this tool.
This guy should have had this tool.