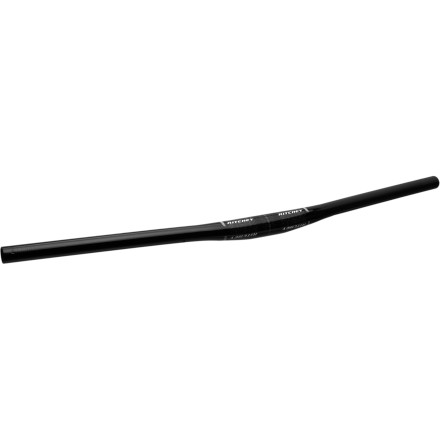 Detail Images
In the world of mountain biking, everything can break -- it's just that some materials break less often than others. When it comes to dependability, we rely on aluminum. And apparently, Ritchey feels the same way as us. Ritchey's Pro 2X Handlebar is the embodiment of this sentiment.
The Pro 2X Handlebar is made from Ritchey's tried and true 2014 aluminum alloy. This material was selected primarily for its stiffness-to-weight ratio. Comparable to WCS carbon, 2014 alloy retains an equilibrium of characteristics on the trail. Its rigidity is equally balanced by its absorption of trail vibration, just as its broad, 720mm stance is balanced by its low, 266g weight. Altogether, Ritchey drew on its decades of mountain experience and innovation to create a versatile bar that's both reliable and durable.
And expanding the Pro's versatility is a new feature to 2013 -- the 2X design. This allows you to run the bar with either a positive five degree rise, or a negative five degree rise, while maintaining the same nine degrees of sweep. So, you can aggressively position yourself for XC on Saturday, and flip the bars over for comfortable handling on an all-mountain Sunday.
The Ritchey Pro 2X Handlebar is available in the color Black and in a 720mm width. It has +/- five degrees of rise and nine degrees of sweep. Please note that this handlebar is only compatible with 31.8mm clamp diameter stems.