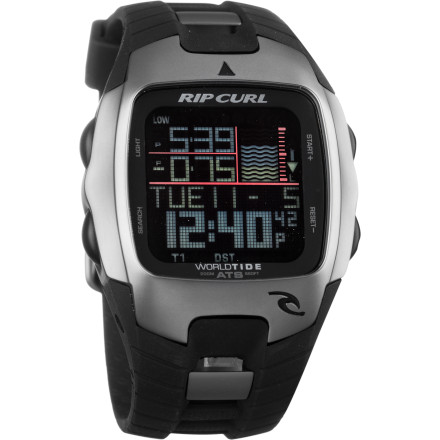 Videos
Wherever your travels take you on the search for the perfect break, have easy access to tide charts from 200 preset locations across the globe with the Rip Curl Ultimate Titanium World Tide & Time Watch. It also features Rip Curl's patented averaging tide system that can be easily set to thousands of beaches worldwide so you can know what to expect no matter where you end up. Have no fear of submerging it in salt water on a daily basis, as it's water-resistant up to 200m and features a titanium housing that's lightweight and non-corrosive, even in the ocean.
Pre-programmed tide charts for 200 locations worldwide and moon phases, with Automatic Tide System that can easily be set to thousands of beaches across the globe
Titanium housing is non-corrosive, even in marine environments, and has a high strength-to-weight ratio
Polyurethane strap repels water, withstands dramatic temperature changes, and is highly tear-resistant
Digital compass for accurately sailing the seven seas
Stopwatch function and countdown timer
Alarm wakes you up when the early waves are breaking, while the display light makes the watch easy to see in the pre-dawn darkness
Date display helps out when you have trouble remembering what day it is
Water-resistant up to 200m
What do you think about this product?
Have questions about this product?
Rip Curl Ultimate Titanium World Tide