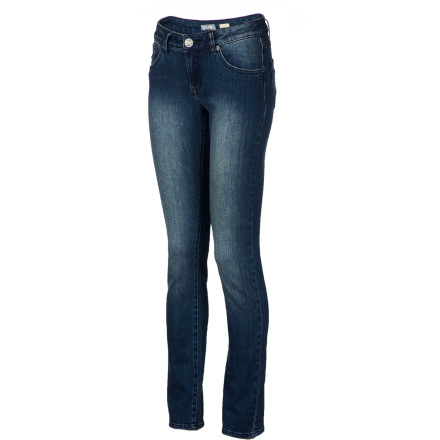 Detail Images
The day the swell blows in, you stroll onto the beach wearing the Rip Curl Women's Sticks Denim Pant so you don't freeze watching the foaming monsters charge into shore. Sure, you'll surf it tomorrow, but you wore this skinny denim pant because you plan to hit the town tonight and celebrate the end of tourist season. Five pockets and light sandblasting and destruction detail mean you don't have to wait for this low-rise pant to look and feel just right.
What do you think about this product?
Have questions about this product?
While the overall quality is really great, I am so far unimpressed with RipCurls jeans. I ordered these in a size 1 and the Pipes in a size 3. The Pipes are so big that I can take them off without unbuttoning them, but the Sticks almost cant even be buttoned. I cant bend at the hip or fully flex my knee because theyre so tight with very little give.
Apart from them being too small, the fade across the top of the thighs in the front and the lower butt/top of the thighs in the back is VERY unflattering. I am a fairly small, athletic woman, and the contrast of the fade makes my thighs/butt look gigantic.
I would be returning them even if they fit me properly.