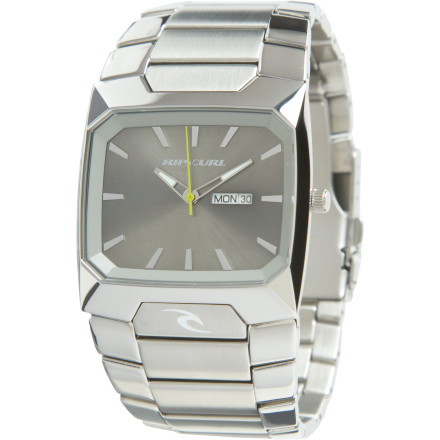 Detail Images
The Huntington Watch's subtle style and classic time-telling face celebrates Surf City.
Jeweled movement reduces friction for greater accuracy and longer life
Case is constructed with 316L, the highest-rated stainless steel for strength and corrosion resistance
Stainless steel band is tough, waterproof, and odor resistant
Is typically the reaction I get when wearing this sucker. Very stylish. Meant to be a casual watch, but I wear it all the time. Hiking, sailing, skiing, hunting...doesn't matter. Seems to be pretty durable. Only a few scratches on the band after some hairy maneuvers on Mt. Katahdin this summer in a downpour. The face is a little larger than I expected when ordering, but I got used to it pretty quickly. If your north of the border, the days can also be displayed in french. I was in the market for a new watch for about two years, and was feeling like most watches these days feel very cheap. I like a heavy watch, simple face, with a metallic band (not a fan of a lot of bells and whistles). The Rip Curl Huntington definitely meets those categories.