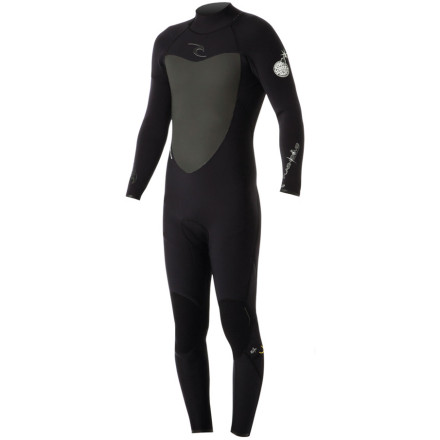 After a sick afternoon surf session, you pull off the Rip Curl Men's Flash-Bomb 4/3 Full Suit, drive home, hang it up on your porch, and notice your roomie looking at you with an odd expression on his face. Twenty minutes later, you realize you don't have to go to work today. Thanks to the Flash-Bomb's FlashDry technology, your suit is dry to the touch and you can avoid the discomfort of putting on a wet, cold wetsuit as you head back to the beach.

Designed to keep you warm and comfortable in moderate to warm water temperatures, this flexible, performance-fit wetsuit features E4 Flash lining that has 30% more stretch and is 20% lighter than its predecessor. This unique technology consists of two engineered layers that funnel the water rapidly out of the suit once it's hung up to dry, which allows the FlashBomb to dry in record time. In addition, the E4 lining makes the Flash Bomb incredibly warm and comfortable during long surf sessions.

E4 neoprene fabric in key panels makes the Flashbomb is even lighter, warmer, and more flexible than previous models that used the E3 neoprene fabric. To allow for maximum stretch, Rip Curl taped the Flashbomb's internal seams with E4+ super stretch tape to provide ultimate seam sealing and comfort. In addition, all of the Flashbomb's seams feature E4 Stitchless double taped seams (E4 tape combined with Aquaban liquid tape) for maximum sealing and durability.

This back-entry suit features Rip Curl's Batwing System that provides a barrier from water entry and cold water flushes. In addition, it also has an adjustable Hydro-loc collar that comfortably seals the neck area to prevent water flushes. For stellar convenience, Rip Curl gave the Flashbomb an external zippered pocket with key loop for you to stash your car or house key.

4/3mm E4 neoprene fabric
E4 Flash lining
Moderate- to warm-weather surfing
E4 Stitchless double taped seams
E4+ super stretch taped internal seams
Back zip
Batwing system
Hydro-loc collar
Stash pocket