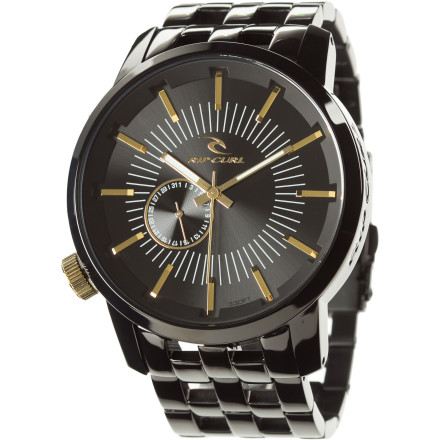 Detail Images

Videos
Try walking through certain areas of Detroit wearing the Rip Curl Detroit Steel Watch and your watch will be gone in no time at all. This is one good-looking piece of stainless steel. Besides, criminals can't help it—they're criminals.
316L case is made from the highest grade of stainless steel for water and corrosion resistance
Water resistant to 100 meters
Classy styling commands attention
What are the measurements?
Measurements:



Case Height: 50 mm

Case Width: 50 mm

Case Depth: 12 mm

Band Width: 1 in

Band Circumference/Length: 9 in
Rip Curl Detroit Steel Watch
This is an awesome watch. Big, shiny and solid. I had a Nixon before but the band kept falling off. This one costs a bit more but not only is it sturdy but it's waterproof (unlike the Nixon).
Truly a GREAT looking watch for being a surf watch, Rip Curl, etc... I CONSTANTLY get comments from people who admire it and say they want to steal it from me. (black face version)

Unless you have a pretty good sized wrist, this watch might be a tad big for you... It's big and noticeable without being flashy or overbearing. I want to get the leather band model as well!!

GET THE DETROIT!!!
I bought this watch because I knew it had a very huge face and thats what I was looking for. I purchased the Midnight "gold", I'm not really sure why its called Midnight Gold because I have not seen any gold coloring or gold plating or anything gold...I still think its a very cool watch. The hands have glow in the dark pieces on them so you can (kinda) see it in the dark. All in all, its a very basic watch.