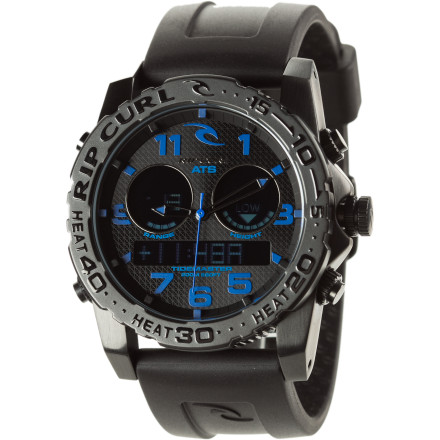 Detail Images
Schedule your day to the changing tides with the Rip Curl Cortez PU Tidemaster 2 Silicone Watch. Its tide and moon phase functions let you know when it's time to surf and when it's time to party. Whether you're in your van sleeping off a wild night or sitting on the beach, you can check the status of the tide.
The Automatic Tide System uses pre-programmed data about the tide range, moon phase, and sunset-sunrise times displayed on three digital display windows
A heat bezel turns independently and aligns with the big analog hands so you can keep time during surf competitions without pressing lots of buttons
A chronograph supplies you with a countdown timer and stopwatch
An alarm, dual time, and date make sure you keep track of your surf competitions and road-trip schedules
The face's backlight updates you in the dark
A large, sturdy 46mm-wide stainless steel case provides enough room for the many features and adds some class to your tanned, sandy wrist
What do you think about this product?
Have questions about this product?
great watch rip curl deserves credit
I've been through a bunch of different tide watches and i must say this one is simply the best and most convenient one. nixons are cheap and crappy and never seam to hold up not to mention you have to pay top dollar for them when there really worth and feel like a third of the price. everything about this watch is just awesome its top quality and you'll feel like you have a 400 dollar watch on not a 50 dollar watch on. its a little heavy but you get uste to it. now about the tides on this thing its very accurate and if your not on the beach list you can type in the average in differences from what ever the closest beach is to you and boom you have your beach you can even re name the brake on the watch to what ever you want. sunrise and sunset is awesome. moon cases are great and the backlight is very bright. also when you activate the backlight it will continue to stay on as long as your pushing buttons so you can check the tides and everything in the dark without having to hit the backlight every 2 seconds. don't buy nixons!! even if they look cool and are expensive there all cheap and crappy quality spend the few extra bucks and buy this watch witch will last and feels like great quality and has every feature a surfer will ever need :)