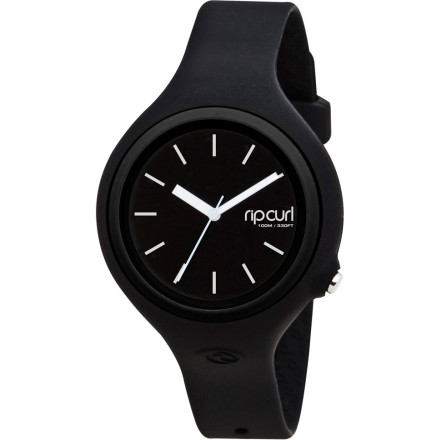 Colors

Detail Images

Videos
Description
Change the course of time while you keep it on your wrist.
When your time capsule manifests itself in a beach mirage, climb out and model the Rip Curl Women's Aurora Watch to the gaping crowd. They've never seen a future-fashion model, so talk slowly and clearly when you explain that the watches of the future feature numberless faces and soft and stretchy straps like the Aurora. Don't stop there. Tell them the Jewelled Movements utilize synthetic rubies to act as bearings, providing accurate time-keeping while surfing through the eons. When the naysayers question your origins, grab a board and show them how everyone in the future can surf, while the 100m water-resistant Aurora watch keeps time and complements your cute two-piece.
great watch - highly recommend!
I've worn this watch everyday for the past two months, and it is definitely waterproof. It has been through kayaking, canoeing, swimming in the pool, and I even wear it in the shower. No fogginess whatsoever! The wristband has plenty of holes to accommodate smaller wrist sizes, and the little peg feature at the end of the band does a great job at holding the tail in place. The purple color is brighter than the picture (has a more pinkish hue), but it is still a nice color. All in all, a simple analog sport watch that seems very durable, and I look forward to taking it on my upcoming adventures.
waterproof with a pop of color
I have to say I bought this for the neon yellow band and love the style. I've taken it swimming a few times, and so far it's held solid and lived up to it's waterproof claims.
Well, this watch its been fantastic. Its super casual, nothing fancy, but work like a champion.The wrist bands are the best,super adjustable. I bought other brands that said they were "waterproof" and even with a little splash of water washing my hands the watch would get foggy inside. On the other hand we have this watch, I even went swimming the ocean and snorkeling with it and this champ, didnt give me any problems. Overall its a great watch, I would recommend 100%.