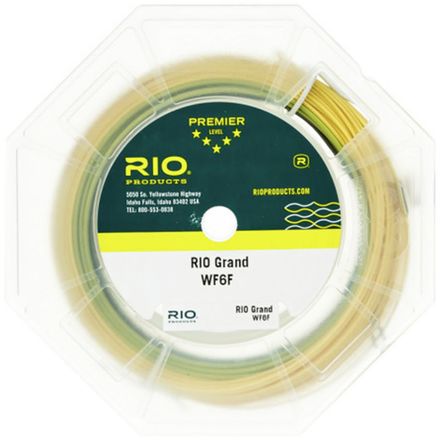 Colors
Description
Let the battle begin.
Load your reel with the RIO Grand Fly Line when you're gunning for cutthroat, browns, or rainbows. Designed for fast-action fly rods, this cold-water, trout-specific line is built with loads of modern tech to keep you at the top of your game.
Trout-specific floating line is designed for modern, fast-action fly rods
Front-loaded, short-head design enables easy casting
A full line size heavier to easily load fast rods
AgentX technology features a coating for enhanced performance, durability, and slickness
MaxCast technology (high-tech line coating) actively repels water for higher floatation, longer casts, and greater durability
MaxFloat construction features a proprietary tip coating for superior float, reduced drag, and quieter pickups
Built with a supple, cold-water core and coating
Dualtone marking system easily identifies the loading area of each fly line for convenience
Welded loops on both ends for convenience
If you're buying a reel or spool and fly line, we'll be happy to rig it up for you, please give us a call at (855)-712-0513 for details
Dreamy casting
Gender:

Male

Familiarity:

I've put it through the wringer
I recently upgraded to the Rio Grand Fly Line and I am glad I did. This line complements the fast action of my Sage One 9ft 5w rod. I typically fish small to medium sized rivers for all species of trout and this line performs exceptionally well on fast action rods for those conditions.
Overview of Rio's Trout lines

filmed on the best river on the planet!
Awesome line
Familiarity:

I've put it through the wringer
I replaced my SA GPX with this line and I like it quite a bit better. It shoots faster and I can get more line out there with fewer false casts. It's easy to pick up 50+ ft of line and throw it back out there with no false casts. Also, leaders seem to dig into the loop connection less than the GPX (removing a heavily loaded leader was damn near impossible). I also like the dualtone marking system a lot. My rod is a med-fast action. I almost got the Gold, but my local fly shop talked me into this one.
Go-to trout line
Familiarity:

I've put it through the wringer
I use this line most often since I have a fast-action Sage VXP and fish mid-size rivers for trout. The line floats great and is easy to cast. This is a great line for the price.
Great on a fast rod!
Familiarity:

I've put it through the wringer
If you're fishing a medium sized river with a fast rod, this line is great. Definitely helps to load the rod at shorter distances. I use this for primarily double nymph rigs and streamer fishing on the Weber and Provo and have no complaints. Not the most delicate presentation out there, but if you're throwing a line 30ft or less on a super fast rod, you still get the energy from the rod. If you're routinely casting longer distances with a fast rod on a lake, I'd go with the Rio Gold as your more standard line.