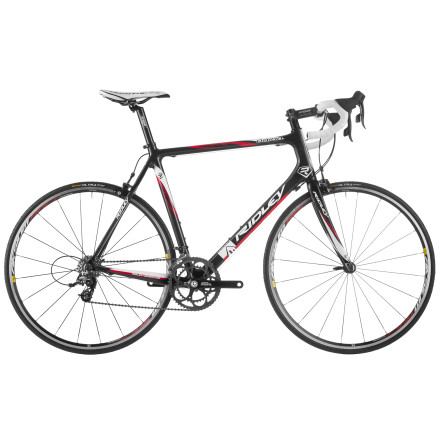 Detail Images
Between the Noah, the Damocles, and the Excalibur, the Ridley stable of race-ready bikes is so full of compelling offerings, it's easy to overlook the full-carbon Orion -- a bike that sits just inside the doorway of of Ridley's top-tier line. Certainly not a bad problem to have, but it also gives you a the distinct advantage of tailoring the right bike and the right performance package for your dollar. And with this Orion with a SRAM Rival build, you'd be hard-pressed to find a better budget-friendly package for hitting the gran fondo or criterium circuit with a vengeance.
In the Orion, Ridley provides a new middle ground -- both in terms of ride quality, and in appearance -- and they do so at a price that's nothing short of alarming. Like other Ridley frames raced in the ProTour, the Orion is built in a monocoque design. The tubes are made from what Ridley terms 24-ton carbon fiber. By definition, it has a tensile strength of 24 tons per square centimeter, and Ridley chooses to make the outermost weave unidirectional carbon. Given its use of 24-ton carbon instead of the 30-ton and 40-ton carbon used in the Damocles and Noah, and given its lack of an expensive 3K outer layer of carbon (which means the frame is fully painted, instead of having a visible clear-coated carbon exterior), the weight of the Orion is nearly identical to the Damocles, even though it costs 40% less.
Don't let the economical price of the Orion throw you off -- it still has technology that'd make it a chart-topper for countless other brands. One example of this is the tubing profiles on the Orion. It has an oversized, semi-round, semi-square downtube with a reinforced bottom bracket to maximize stiffness and power transfer. It's reminiscent in our minds of the "Squoval" tubing on the Cervélo R3 -- it's has a rounded boxy shape difficult to explain in words, but its shaping directly correlates to its resistance to torsional and lateral flex. It's no different from the Helium, Noah, Damocles, and Excalibur: The Orion is a pure race bike, and it's at home in any conditions -- flat or hilly, smooth roads or jarring. And not unlike the Excalibur, Ridley built the Orion to deliver the sort of vertical compliance that's nice on sub-2 hour rides, but absolutely necessary when you're out for upwards of four hours. You can rest assured its stiffness under power doesn't make it a jackhammer on chip and seal roads.
The Orion is available in a bold Black/Red scheme, and in sizes Large and X-Large. Given its slightly compact geometry, we strongly suggest that you focus on the virtual top tube length as you make a determination of the proper size. The frame is built up with a full SRAM Rival component group. It comes with a standard 1-1/8in threadless headset, and a Ridley Fenix carbon fiber fork. It has a 5-year warranty from manufacturing defect.