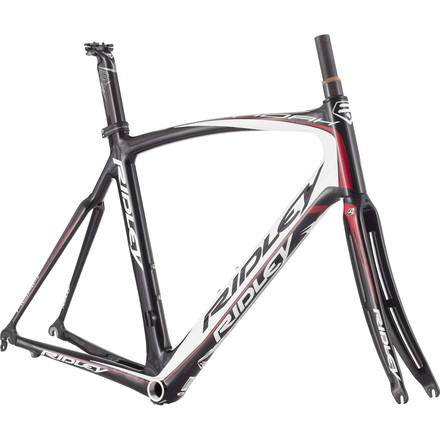 Detail Images
Ridley has taken the liberty to not only designate its frames by their intended purposes, but to actually design in accordance to the singular characteristics of aerodynamics, stiffness-to-weight, and strength. And, as might already know, the Noah is Ridley's singular aerodynamic offering. At the top of the mountain, you'll find the Noah Fast, where Ridley has applied all of its knowledge and technology. Meanwhile, the Noah RS, found here, takes much of the Noah Fast's FAST-concept wizardry, and dithers it down to a more affordable package.
Ridley's FAST-concept was developed for one purpose -- free speed. At its pinnacle, this concept employs Ridley's F-Splitfork, F-Surface paint, F-Brake, and an integrated seatmast. And here, on the Noah RS, we see all of that technology, sans the F-Brake and seatmast. Instead, the Noah RS uses a more conventional seat post. However, the included seatpost is still produced from aerodynamically-shaped carbon fiber. Additionally, this adds a greater versatility to your position on the bike, and makes traveling quite a bit easier. In terms of the RS' use of conventional brake calipers, we find it prudent to weigh out the advantage of simple service and maintenance over the F-Brake's claimed 4.3% drag reduction.
The carbon-fiber lay-up has likewise been tweaked to bring the price downward and to also make the RS a touch more compliant. Accordingly, the RS uses a blend of 40-, 30-, and 24-ton high modulus carbon fiber. The 'ton' designation means that the carbon fiber is capable of withstanding x tons of pressure per square millimeter before achieving structural compromise. So, the main idea to take away from this is that the higher the tonnage, the stronger the carbon fiber. And, the stronger the carbon fiber, the less that needs to be used. That's why the Noah Fast's carbon range of 50- to 30-ton carbon results in an overall lighter frame.
The other big difference from the Noah Fast is that the RS seat stays are aero-shaped, but lack the split stay R-Flow design you'd find on the Noah. But, Ridley retained this technology on the front of the bike where aerodynamics are crucial. In fact, Ridley claims that the R-Flow jet foils in the 4ZA Sphinx full-carbon fork reduce drag over the frame by 6.4%. It's a full carbon fork with a carbon steerer and turns on upper- and lower-integrated 1-1/8-inch FSA bearings. For further aerodynamic savings, the RS also features the Fast's R-Surface paint technology. These are 'textured' applications of paint that have been strategically applied throughout the RS. Essentially, this small feature increases the laminar airflow over the frame, reducing drag by around 3.6%. Additionally, the RS' cables have been run internally to further maximize its aerodynamic advantage.
The Ridley Noah RS is available in the color Matte Black/red/white and in six sizes from XX-Small to X-Large. It uses a braze-on front derailleur mount because Ridley didn't want to constrain its aerodynamic design with a round seat tube for a derailleur clamp. It uses and English threaded bottom bracket, and the derailleur hanger is replaceable for greater durability.
2014 Noah RS + Ultegra
Familiarity:

I've put it through the wringer
What a beautiful machine! This is my first road bike, so I don't have any basis for direct comparison, but I have spent lots of time with a mountain bike. I knew that I wanted a full Ultegra 6800 setup, and better-than-cheapest wheels. My budget was "around $3K" and I came in at less than $3500 with saddle, pedals, and better wheels.



As for sizing, I'm almost 6'3, with a ~33" seat to bottom bracket measurement. The Large frame with a 90mm stem and average size bars did the trick for me.



I chose the 52-36 175mm crankset and 11-28 cassette. I love to climb, and this combo has been the right choice so far, though as I'm improving I'm thinking the 11-25 would be sufficient since I'm never in the 36-28 combo.



Fully set up to ride with Reynolds Stratus Pro wheels (< 1600 grams -- the best weight/price wheels on the site that I could find), Ritchey Evo Curve carbon bars, Fizik Arione VS saddle, and Shimano A600 pedals, the bike weighs 17.0 pounds.



The Ultegra 6800 components have been a dream to operate. Fast, smooth shifts. Easy action. Not yet gone out of adjustment. CC was out of stock of the Ultegra 6800 chain, so I upgraded to the Dura Ace CN-9000 chain. Probably worth the few dollars extra!



The bike came nearly fully assembled from Competitive Cyclist. They did a great job with the build. The only thing I wanted to fix was the rear brake cable housing was longer than I preferred, but a simple trim did the trick. The headset has needed a few rounds of tightening as it has settled in, but I think that's to be expected.



Excellent purchase and support experience from the site too. I am a happy customer.



It feels so lively to ride! Turns are so sharp and accurate. The frame is not made for comfort, so the 25mm Conti GP4000S-II tires help out there. I love to stand up and "give 'er all she's got captain" and rocket off on the thing. I ride it every day on my short commute and try to get a longer ride in on the weekends. So far I've put 500 miles on it, and only get happier as I get to know it.
Unanswered Question
Anyone know if generally 700x28 front tire will clear. I run 700x25 in back but a 700x28 on the front. (yes I know depends on the tire that is why I ask if anyone has tried it with various tires...generally :) )

Thanks !!!!!!!!!!!

PS here is a pdf on the frame



http://content.ridley-bikes.com/bikes/passport/noah-rs-7db_1389772285717911.pdf


Can the Flo 30 wheels fit on this frame and fork?


Sai,



It will not. these take an average size wheel, not the wider models now avialable.
For Ridley's own opinion, check the Ridley Noah RS frame passport at http://content.ridley-bikes.com/bikes/passport/noah-rs-7db_1389772285717911.pdf:

For the front: "The fork can accommodate wheels with a maximum rim width of 28 mm".

For the rear: " The frame can accommodate wheels with a maximum rim width of 25 mm."

" The maximum recommended tire width is 23 mm".
i want xs size!!!!!!!!!!!!!!



please me.. fkeb12@naver.com
Hi there. Unfortunately this frame is no longer available in XS, we are completely sold out. We'd be happy to help you find something similar in a size that will fit you, and is in stock. Please feel free to email me if you'd like to take a look at other options. tjackson@backcountry.com
Will this frame work with Di2 11 speed?

Also, I'm a little concerned about the fit. I ride a 56cm Cannondale CAAD10 that is tall for me. The top tube seems ok. I'm using a 120 Fizik stem. It looks like the medium Noah is basically a 56 but with a shorter seat tube. I'm 5'10" tall but with short legs. What do you think?
First: yes this bike will work with Di2

second: the fit is highly variable and very personal. The stack and reach numbers are closest with the medium, however the stack is quite a bit more with the Ridley. If you want, please call in and we can have a conversation about it. It's about how comfortable you are in your current fit and how you have your caad set up.
fast, aero, awesome
Familiarity:

I've put it through the wringer
I have owned/raced on several ridley bikes including the helium and Noah. The Noah is surprisingly light for what would be considered the heavier frame in Ridley's lineup. I wouldn't hesitate to ride it as an all around race bike but it shines most on the flats into the wind on a solo break. Excellent aerodynamics and super stiff bottom bracket make it handle superb in any situation and no loss of power in your pedal stroke, you get everything out of it you put into it. An excellent choice if you have one bike for training/racing, and doing tri's or TT's as the aero properties give you full advantage of all that has to offer but geometry can be ridden everyday. clip on some aero extensions and your good to fly.



Feel free to contact me here at kylebrown@backcountry.com with questions on the Noah, or with sizing questions.
Hi,



Does anyone know if the frame/fork will accommodate 25 mm tires? Also, how much setback does the aero seatpost offer?



Thanks.
Best Answer
I've run 25mm Conti GP4000's on my Noah with no clearance issues at all. Takes some of the harshness out of the frame.
I've run the Contis on my 2012, and if you get in any kind of mud, even mud tracked onto pavement it can build IP in the front fork and rub. Doesn't take much. I also had a noise in a hill climb last year, turned out it was the rear 25 hitting under a big load. YMMV.
I'm confused by the sizing. Is the Effective top tube measurement what I should be looking at? If so would a medium at 56.5 cm be appropriate for a guy that's 5'10" with long arms and legs relative to torso? I'm about 175 lbs. Or should I go for the Large at 58.5cm? Also are all of the internal cable runs full housing and if so do you get any cable slap or noise in the frame or how did you stop it? What's the frame and fork weight. I don't see it here.
Best Answer
Hey man. @ 5'10", the large is going to be entirely too big. I ride a medium. I'm 6'1" with a 78cm seat height. I ride a 120mm stem. It fits perfectly.

The gear cables are internal through the down tube. They aren't full housing. I've never had any sort of cable noise. The rear brake IS full housing thru the top tube. I used the old zip tie trick to keep the housing from sliding back and forth thru the tube. Never any noise there either.

I never weighed the frameset, but the bike built with full 10v 7900 D/A, Rotor cranks, Thomson X4 stem, and am old style Flite Ti Gel saddle is dead on 17 pounds.

Hope this helps...
Mark, Thanks! That's exactly what I wanted to know! I'm looking at swapping my SRAM Red group over to this. I thought it looked like a Medium was my size. Now I just have to save up to buy the frame.


I have a 2012, and ride a small, since I normally fit a 54 pretty well. I'm 5' 10".
Unpacked yesterday, rode today!
Familiarity:

I've used it once or twice and have initial impressions
I'm in the military, and recently moved somewhere overseas where I didn't expect the road biking to be so good. I'd heard that the mountain biking was good, so brought my Intense Spider29Comp and my fixie (Capo), but have since been disappointed with the lack of single track around here. I soon started longing for my SuperSix with Chorus 11 that I'd left in storage back in the US, with no way to get it. So I found myself searching online for a good deal on another SuperSix, and then began to broaden that search. I came across the Ridley Noah RS with SRAM Force 22, and saw comments in the review section from Wes Branham stating that these bikes are custom builds and he could swap out parts. So I emailed to ask about getting it built with Chorus 11 (what can I say, I'm impressed with Campy and my other wheelsets in storage will be compatible once I have them again) and the price was right. In less than two weeks, I had the bike (thanks for shipping via Priority Mail!). The guys at Competitive Cyclist do a great job of packing up the product, so when I got the bike yesterday, it was a simple job to reassemble it and make a few adjustments. I only had to make a slight adjustment to the rear derailleur to get it spot on. Today I took it out for a 25-mile shake down ride after work, and I'm convinced I made the right choice with this bike. I'm undecided on the Fi'zi:k Arione saddle as it feels very different from the Specialized Toupe+ on both my Capo and SuperSix, but I can't say that I really dislike it yet. I just need to decide if it is the right saddle to take on a 200km ride this weekend. But it does break rule #8 about the color of the saddle! Ok, that is somewhat in jest. Competitive Cyclist was great to work with on ordering the bike, the packaging kept it in perfect condition, and in one evening, I had the bike ready for a ride the next day. I don't have any reservations recommending the Ridley, Campy Chorus 11 or Competitive Cyclist!
A comfort bike, it ain't....
Familiarity:

I've put it through the wringer
Built up pretty nicely. Not as light as my old Helium, but DEFINITELY has more aero properties. Crazy tube shapes, tucked in rear wheel, and internal cable routing. Speaking of internal routing, I understand it, but what a pain in the ass. The rear brake is full housing, through the top tube, and it was pretty easy, which lulled me into a false sense of security.

The gear cables were the old 'push-pull-until-you-find-the-hole' exercise. It was cool though, as I had a lot of practice with this through high school and college...wink, wink!

It's a race bike. It's not a "comfort" road bike, a la the Roubaix, or Domane, or even the old Helium.

It's comfortable, and smooth, as long as the road is the same. On rough, pot-holed, choppy pavement, the ride is not what one would call compliant. And I'm running 25c Vittorias @ 100-ish PSI.

It's tolerable for a rider that weighs more than 170 pounds, or doesn't mind the harshness. Fortunately, I'm both.

If you want a comfy, plush, cushy ride, look elsewhere.

That being said, yesterday was the first time I put an anger to the pedals, and I can assure you, it JUMPS forward when given the whip. No wasted motion or energy, AT ALL!



Turn in is quick, yet very predictable, like all Ridley frames. No drama in a hard turn. Lean it in, and the Noah rails through.

Outputs occur quickly. There's little need for big efforts to make it change line. Small inputs are all that is needed to get around holes in the road, or drop it into a corner.

It's not twitchy...no way. I rode it no-handed without issue. Let's say...it's direct.

It's a hard-edged sports car in a World filled with Camrys.

The aero thing is truly odd too. At lower speeds, it rides like a normal, really stiff bike. Once the speeds climb into the mid-high 20s, I liken it to a speedboat getting up on plane. It smoothes out, and feels like it wants to go forward. Ridley says it's fast, and it is!