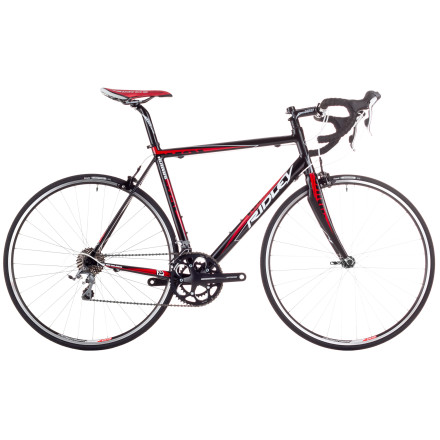 Detail Images
If you cringe at the thought of taking your race-day bike out for those long, preseason training days, or you're simply looking to dip your toes into the world of performance cycling without re-financing your home, the Ridley Icarus Shimano Tiagra Complete Bike removes all the heavy lifting from your decision-making process and quickly gets you riding.
The Icarus is very much a workman's steed, being a race-worthy and exceptionally upgradable platform thanks to geometry derived from the top-shelf Ridley Excalibur, and able to take the abuse of day-in day-out training, thanks to the light and strong 7005-series aluminum tubing. This isn't a frame you need to treat with kid gloves; it can handle the miles, the rain, the snow, the crashes, the trunk of your car, and it can do so for years and still look good and ride great at the other end.
The bike comes readily equipped with a Shimano Tiagra groupset. Tiagra is a ride-anywhere, workhorse set of parts that sit just a step below, yet share the same ergonomics and functionality of Shimano's 105 group. Whether you're into racing, cyclosportives, riding hard with the local chain gang, taking an easy spin with less-active family members, it can do it all with aplomb, thanks to having a wide range from low-low gears to high-highs.
With actuation and functionality differing little from Shimano 105, Tiagra levers handle shifting duties, and Tektro R-525 dual-pivot brakes get you slowed down. Both brakes have a micro-adjusting housing stop and a micro-adjusting quick release, and come equipped with P422 adjustable cartridge pads, which means you can easily swap in any Shimano/SRAM-compatible pads when you wear out the stock pads or upgrade to carbon-fiber wheels. What you'll get with the bike are Alex 32 hole, 3-cross wheels. They're solid performers built for long miles and can handle any roads along with Vittoria's Zaffiro 700x23mm tires.
The majority of the components are from 4ZA, Ridley's in-house component brand, and all are from the Stratos line. The bars have a 31.8mm clamping area and a compact ergonomic shape. The stem is made from 6061 aluminum and has a +/- 7-degree angle. The seatpost is one piece with a two-bolt clamp and 3D forged from 6061 double-butted aluminum. The saddle is a traditional racing style, with a channel down the middle for pressure relief and steel rails for durability.
The 4ZA Stratos stem, handlebars, and cranks are all colored and sized to match each respective frame size. The Ridley Icarus Shimano Tiagra Complete Bike comes in sizes XX-Small through X-Large, and in a Black/red color scheme.
I built up an Icarus with Ultegra Parts and pulled the wheels off my X-Fire. I have long legs and a short torso and Ridleys seem to fit me well. The most comfortable bike I've ever ridden in the drops. I'm 6'1" and got the Large.
Unanswered Question
Are tires included?


Unanswered Question
What is the wheel size of the Ridley Icarus...
What is the wheel size of the Ridley Icarus size M? I am trying to calibrate a computer and I don't know the wheel size.
What's the weight of this bike?
What's the weight of this bike?
Great Bike, Great Price, Great Service
I am very impress with real cyclist. I am going to cover 3 areas in this review; the bike, packing and customer service.

Bike: I completely love it. I have ride about 200 miles in the last 2 weeks and the bike has function flawlessly. The bike is a perfect fit for me, I bought a Small and I am 5' 6". The components are excellent, they are not the top of the line but the bike was already tuned up and adjusted. If you compare the components of this bike and more expensive ones you will find that the difference in price might not be worth it. The only way you should spend a lot more for components is if you are a competitive biker, but for fitness and fun, the Tiagra components are great.

Packing: I have bought several bikes and parts online, and the packing of Real Cyclist is by far the best. My bike was shipped to an FPO AP address in Japan and arrived without any scratches. The wheels were independently packed and had protection all around.

The service: I contacted the company over their online chat and the sales rep spend over an hour with me. He helped me with the different options for bikes and components and also asked me several questions to determine the right size for me. The shipped the bike within 24 hours of me placing the order.

Overall excellent bike and excellent service. If you are looking for good quality at affordable price, the Ridley Icarus is the way to go.
This is my first road bike. After testing Specialized Allez, Felt F85, and Focus frames, this one fit the bill for price and value so I took a chance. I could not be happier with this bike. All put together (with water bottle cages) it weighs in around 18 lbs. which is not bad for an entry level aluminum bike. It handles very well, zips like a rocket, and maintains comfort over rough pavement (note that I have only ridden aluminum bikes, so I am definitely used to the feel). I have logged over three hundred miles in about two weeks, and I cannot wait to ride more! I will mention that I did replace the stock saddle with a Specialized BG Romin, but the stock seat is not horrible. Overall this bike is exactly what I needed to get me into the awesome sport of road cycling, and I would definitely recommend it to anyone!
Ridley Icarus/Shimano Tiagra
Got this bike about a month ago for training. Have completed about 300 miles on it. Replaced the seat (really uncomfortable) but other components worked fine. Most in house made. Entry level bike with good bones and good price. It is what it is.
Got this bike a few weeks ago for my indoor trainer, since I did not want to use my Carbon Fiber bike on trainer. Great bike for the price. Beats buying a used bike that someone beat (even though it is for just the trainer). I switched the stem and the seat(terrible) and now the bike is great. Super bike for the $.
The tech specs show shimano tiagra crankset...
The tech specs show shimano tiagra crankset but photos show fsa, what are all the actual components that come on the bike? Since the bike is listed online it would also make sense to list details on headset, stem, fork, length of crank arms, handle bar widths, etc. Not sure why anyone would buy a bike sight unseen without basic specs, unless they planned to swap all components any way, but then might as well buy just a frame.
Best Answer
The current pictures do show exactly what I have on my bike. The only FSA parts on my bike are the headset and the FSA Omega double crankset. It does have Tiagra 10-speed shifters and derailleur. Everything else (including brake calipers and fork) was Stratos 4ZA which is Ridley's house brand which is fairly lightweight. Tires were Vittoria Zaffiro 700x23. Unfortunately, Ridley seems to have no Icarus bike information left on their website. Before I purchased the bike, I contacted Backcountry and they were able to measure some things for me.
Just a few notes from unboxing it . . .

The frame looks solid and well-finished, not as skinny as I thought it looked in the pictures (and I got a large). The one I received has Jagwire cables and Alex DC19 rims, and of course, no pedals. It has a 10-speed Tiagra cassette and mine was a 12-28. Crankset is 50/34. I tested a 28mm tire on the front and it fit with about 2mm to spare (vertically). A 25mm tire is the biggest that fits well in front. It says it was designed in Belgium and made in Taiwan. I got estimates of 20.8 and 20.9 lbs (no pedals) from standing on two different digital bathroom scales. It comes with a detailed, 40-item checklist from a mechanic that shows that the parts were torqued, adjusted, etc. and ending with a test ride. (It is built, you just mount the handlebars and the wheels.) It does feel like it has been checked out--it shifts smoothly, limits properly set, brakes adjusted, etc. (And, my brake calipers were 4ZA (Stratos), not Tektro.)
Unanswered Question
Saw this bike for 649 a while ago... just...
Saw this bike for 649 a while ago... just a hicup?
will this bike come assembled just like...
will this bike come assembled just like competitive cyclist does?
so i've been wanting to buy it at 649, but no one has answered my question and now the price has gone back to 749
Does this bike come with pedals? If so,...
Does this bike come with pedals? If so, what kind?
Most road bikes do not come with pedals. This will surely not come with any.
is this a 10 speed or 9 speed tiagra?