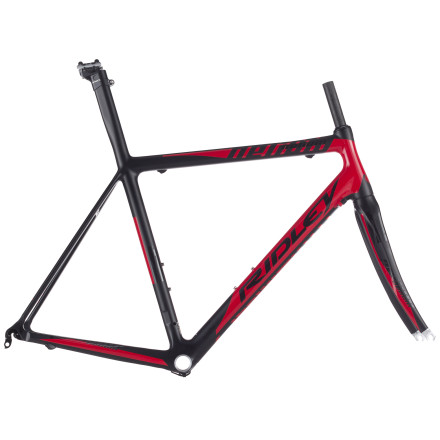 Detail Images

Community Images
Description
Rising to your challenges.
A staple of our stable, the Ridley Helium Road Bike Frame is an easy sell virtually every time. Why? It's got the trifecta: low weight, an excellent ride, and great geometry - but it also adds in history, handling, and a sharp look. There's little not to like. Nearly any rider could fall for the Helium, and a closer look reveals why.
The Helium's predecessor, the Damocles, had earned its reputation as a fantastic all-around bike for the reasons above, but there was one issue to address: weight. Engineers wanted to keep the performance profile of the bike - stiff, smooth, and predictable - roughly the same, but they still saw room for improvement while they were cutting grams. Their pursuit churned out the Helium, a frame that will feel wonderfully familiar to those loyal to the Damocles, but better, while also chopping off almost 300 grams on the scale. The savings came about primarily by using a new, smarter blend of 30- and 24-ton carbon fiber, with the application of 40- and 50-ton fiber in certain areas for reinforcement. The higher the carbon tonnage, the more pressure can be applied to it without breaking, so the use of higher tonnages at critical junctions like the bottom bracket and the head tube not only result in a stronger bike, but weight savings, too.
That's only part of the story, though. Ridley took a good long gander at tube shapes and toyed with countless designs until it settled on the results you see here. While Ridley's engineers employ a diamond-shaped tube system on models like the Fenix to find the best intersection of strength and ride quality, they needed to add to that mix lightness and stiffness if they were to meet their performance goals for the new Helium. A round tube shape - the most efficient available - was thus employed. All formed via a molding process that creates a monocoque front triangle, making it stiffer, lighter, improving ride quality, and reducing the chance of structural failure at tube junctions.
Relatively long head tube lengths lift up the front end a bit relative to other competition frames, making the Helium a bit easier on the neck and back, yet still being low enough to race and sprint aggressively when and if the time comes. When combined with neutral head tube and seat tube angles (73 degrees for both on the size Medium frame), the Helium's handling profile is comfortable and conducive to any kind of riding, whether you're tackling aggressive climbs, screaming descents, or the twistiest of roads, you'll be confident that you're on the right machine.
The Ridley Helium Road Bike Frame comes with a matching Ridley 4ZA monocoque full-carbon fiber fork, with a 1-1/8 x 1-1/2-inch steerer tube and a proprietary FSA integrated headset.
The Ridley Helium Road Bike Frame is available in the color Red/black and Black/white, in five sizes from X-Small to X-Large. Given its compact geometry, we strongly suggest that you focus on the virtual top tube length as you make a determination of the proper size. Please provide us with your Bottom Bracket-Saddle Rail height in the 'Comments' section of our order form, so we can properly cut down the seat tube for delivery. Please note that the post's maximum cut-off length from the top of the seatpost is 60mm. The standard Helium seat clamp has 18mm in height adjustment, and comes with a 1mm micro-spacer for small adjustments. Ridley also offers an aftermarket clamp that provides 40mm of height adjustment. The Helium requires an English bottom bracket, and a 34.9mm front derailleur.
Share your thoughts
What do you think of the
Ridley
Helium Road Bike Frame
? Share a...