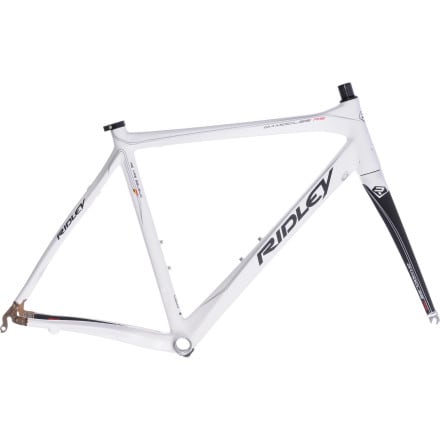 Detail Images
Description
Proven history.
Some bikes tantalize us with their mystique and heritage, while others turn us on with their raw performance and wealth of results in the professional peloton. The Ridley Damocles is a bike from the latter category. Even though Ridley has only been producing bikes for 17 years, it's been an amazing time -- a brief era capped off by a streak of victories that include the Australian, Dutch, Belgian, and British national road race championships; umpteen wins in field sprints under Robbie McEwen in the Tour de France and the Giro d'Italia; plus a glorious mountaintop solo victory for American Chris Horner in Switzerland's prestigious Tour of Romandie. Fillipo Pozzato selected the Damocles for his battle with Tom Boonen on the cobbles of Paris-Roubaix. It's thanks to this diversity -- in the rolling courses that define national championship races, in the dead flat sprinters' stages of the Grand Tours, in the dizzying finishes at the ski stations of the Alps, and on the brutal pavé of Northern France -- that we're convinced of the Damocles' versatility as a race bike.
The carbon fiber Damocles is constructed of individual tubes that are joined together into a complete frame. This tube-to-tube method gives Ridley designers the ability to fine tune the layup for each tube considering its role in the frame as a whole, giving it a special blend of durability and lightness. But where the Damocles is unique -- and where it should capture your attention -- is in its ride quality. The true test is to big ring it down a chip-and-seal country road (after all, every bike feels great on smooth pavement). By now we've had countless experiences drilling carbon fiber bikes in the boonies and at times have been annoyed by both the jackhammer effect and the reverberation of road noise throughout the oversize tubes. Take just one test ride on a Damocles though, and you'll come to a glorious conclusion: there's a distinctive forgiveness to its tubes. In a "me too" world of homogenous carbon fiber framesets, it's smoothness and silence will breathe new life into your belief of what's possible with carbon.
As smooth as the Damocles is, it doesn't sacrifice performance for comfort, as evidenced by its race pedigree. Its "Sharp Edge Design" has been optimized for stiffness, in a way that it resists flex under power. So be it sprinting or charging up a climb, the Damocles leaps at the push of a pedal. Along those same lines, it has a tapered head tube with an oversized 1.5" lower bearing, giving the front end supreme stiffness when you're out of the saddle. The tube junctures at the bottom bracket illustrate the intent for stiffness under power, as the hexagonal shaped down tube is massive, nearly as wide as the bottom bracket shell. By pairing this rigidity with its capacity for absorbing road vibrations, the Damocles has a finely balanced ride of which most other manufacturers can just dream.
A medium-sized Damocles weighs in at 1.2kg, just a shade above 2.5 lbs -- putting it in the same weight class as the Cervélo S2 and the Colnago C50, two other bikes widely respected for their ride quality and their durability. The beauty of the Damocles is that you get every bit of performance you'd expect from a ProTour bike, but at a price that saves you sufficient money to upgrade your wheelset or other components to give you a bike that looks the part of a ProTour bike from stem-to-stern.
The Ridley Damocles Road Bike Frame - 2012 is Matte White/Black and comes in six sizes from XX-Small to X-Large. Given its compact geometry, we strongly suggest that you focus on the virtual top tube length as you make a determination of the proper size. The frame comes with a painted-to-match Ridley 4ZA Damocles monocoque full carbon fiber fork and an FSA integrated headset. It requires a 31.6mm seatpost, an English bottom bracket, and a 34.9mm front derailleur.
Share your thoughts
What do you think of the
Ridley Damocles Road Bike Frame - 2012
? Share a...
my wife is 5.4" can the xxs fit her?
Member since
Posted on
my wife is 5.4" can the xxs fit her?
Member since
Groups:
Responded on
The XXS could fit your wife. I would recommend a zero offset seatpost and a 70-80mm stem.
Beautiful bike.
Member since
Posted on
Familiarity: I've put it through the wringer
Ive been riding my Damocles for 5 years now. In that time I have had a love of this bike matched by no other that I have ever ridden. In my now 30 yrs of riding with include 13 yrs racing as a cat 2, and 7 yrs working in the bike industry, I have a big collection of various bikes which started with steel, going to allunium and titanium, and various generations of carbon. Im going to state simply that this bike snob who has tried a lot of bikes, loves this one. The combination of comfort, stability, agility, and superior handling makes this bike a A+. There are now others that are newer, lighter, and more fancy but bang for your buck you cant beat this machine. Btw, I am no longer associated with the bike industry in any way and this is a Gods honest opinion. MB