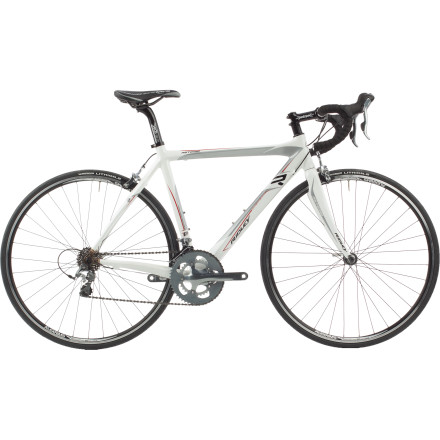 Detail Images
Not content to build women's bikes that were simply shrunken versions of their men's bikes, Ridley rewrote their geometry book for their women's bikes. And the flagship of that fleet is the Ridley Asteria -- featuring everything Ridley's pro teams have come to rely on, like intelligent blends of 30 and 24-ton high-modulous carbon fiber which increase locational strength and reduce overall weight. Or the unique Sharp Edge Tubing which maximizes lateral stiffness while also reducing the bike's aerodynamic profile in the wind. But best of all? The Asteria is built proportionately, just for a woman, ensuring you get the smoothest, most comfortable, and most powerful ride your legs can deliver.
Strong and reliable Fulcrum Racing 7 wheelset gives a responsive platform on which to coordinate your attacks

Shimano Tiagra groupset is ready for a lifetime of shifting through centuries, fondos, and shop rides with the ladies

Compact crankset gearing is perfect for big-ring cruising in the drops or dancing your way up a steep climb

What do you think about this product?
Have questions about this product?
what is the size of this xs ridley on sale?...
what is the size of this xs ridley on sale? I'm 5'6" tall man.
It is 50.5cm. If you click the little ruler next to the drop down list above, titled "Size?" the chart will provide you with all of the geometry measurements you need.
I'm 5'6" Asian... what size bike should I...
I'm 5'6" Asian... what size bike should I be looking at??? Please advice.
Greg Lemond book says frame size should be 0.65 times your inseam, rounded down. Has worked for everyone I have suggested it to.