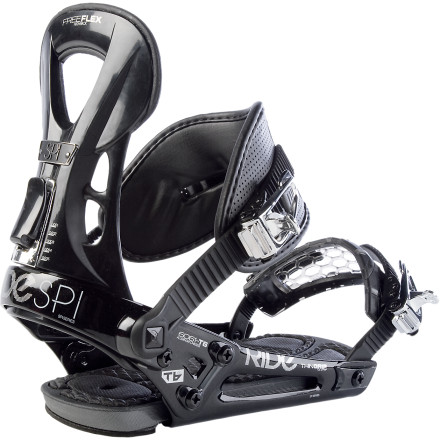 Community Images
The Ride SPI Snowboard Binding's lightweight, customizable performance delivers a versatile ride that shredders of all levels will appreciate. The infinitely adjustable 3-D straps and Wedgie footbeds keep you in control through all types of terrain.
Wedgie 3.0 angled footbeds reduce knee pain, bring you closer to the board, and increase leverage during ollies
3D ThinGrip toe strap fits either over the top or the toe of your boot, and stays in place using sticky rubber
Offset aluminum Response discs are compatible with 3-hole and 4-hole insert patterns
Share your thoughts
What do you think of the
Ride
SPI Snowboard Binding
? Share a...
I had the RIDE NRC bindings last season which sold me on buying the SPI's this season. I like the bindings but just like the reviewer below, I've been having issues with the toe straps coming loose. Overall, they're a hard responsive binding and I like flexible toe strap (despite them coming loose).
I was in the market for a stiffer all mountain freeride binding. I had these recommended to me by several people as the ultimate answer. Having read dozens of glowing reviews and being further convinced by the fact that they were completely sold out here in Canada, I rushed online and had them shipped to a friend in new york who forwarded them on.
Out of the box these are visually impressive. They are relatively light and infinitely adjustable for those of you who like to fiddle like I do. Word of warning make your changes quickly as the hardware used is too soft and susceptible to damage and stripping.
The top strap is great, no comfort issues and very supportive. That is about the only positive quality other than visuals that I can find. The toe strap/cap is not all that ( I much prefer a standard Burton style toe cap) and the ratchets used are worthless junk that do not allow you to dial yourself in unless you bend/twist and hop around until you can catch an extra tooth. As far as response goes I bought these to replace my gnu ag's that I thought were a bit too freestyle for what I like to do...., the spi's are no more responsive , possibly less so than the ag's. Do not believe everything you read, these are very much over rated and for that matter over priced, you can do much better at this price point.......wish I had stuck with gnu and bought some mutants!
I really wanted to like these. Bought 2009/10 version before riding 15 days in NZ 2010 summer. Cool toe strap and all, but on the mountain the straps kept coming loose and often the ratchets wouldn't engage. The bling on the backs fell off on the second day but I care less. Super stiff when they were locked down, which is nice for the technical stuff but just not reliable and inspired zero confidence. Returned to REI and won't buy Ride again. Not sure which brand to ride this winter at mammoth...thinking Union's, Technine, or maybe give Burton a shot again.
These are listed as an all mountain or freestyle binding but I think they are too stiff to be considered either. They are incredibly responsive and pretty lightweight for a metal binding but they definitely won't flex in any direction once you're strapped in.

Sizing: I was wearing an 11.5 Prion and needed an XL
These are super responsive bindings and pretty comfortable but nothing about them made me that stoked on them. More of a freeride binding than a freestyle binding becase there isn't must play to metal.

Sizing: I wore a size 11.5 Prion and def needed the XL
Pro:Responsive, wedgie footbeds
Con: Not playful enough to be called all mountain
The SPI has been a staple of Rides binding line up for quite some time now and for good reason. If it ain't broke don't fix it! Sure, it's gotten upgrades over the years, but the basic concept behind this binding has stayed the same. Build a binding that do just about everything. With the Custom Flex ankle strap you can literally go from a minimal flex to a cushy soft ankle strap in a matter of seconds with no tools giving you the instant option to dial the binding into your terrain and riding style! One of the many reasons that the over the years the SPI has developed an almost cult-like following. Once people get a pair they are hard to convince to try anything else!