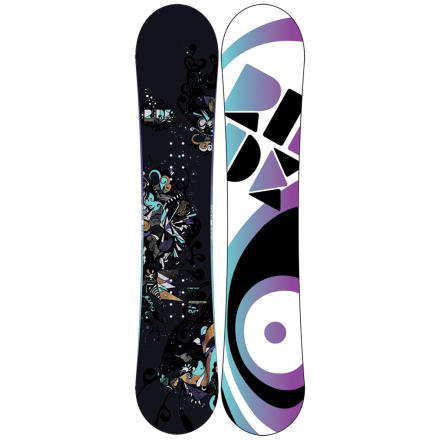 If I buy just the board--a 142, how do I know what bindings will work? Is it okay to mix brands? Most likely I'll buy my set in pieces offline and I don't want to worry about a lot of trial and error. Any advice would be great, thanks :)
Best Answer
the majority of snowboard bindings are universal unless its Burton EST or splirboard bindings. They all use the 4-hole pattern. That said, I prefer Ride bindings.
I was a beginner last year and finally got tired of renting equip. I bought this board along with RIDE bindings and boots and I absolutely love everything about my package. The board rides great and is easy to progress on. It looks way better in person as well. It's very pretty but not too girly.
Why is the board listed as twin, when ride...
Why is the board listed as twin, when ride lists it on its website as directional?
Best Answer
NOt sure, it is a mistake though. This is a drectional baord for sure 100%.
yo, my girl friend has this board and she loves it. great flex, easy to throw around and just an overall smooth ride. the base is the only flaw and its not a major one: i hot wax our boards and the wax went away from 3 days of riding (i may have not put enough was on) so then i put DaKine rub on on it and that stayed for awhile but still didnt last very long. owell like i said great board for the price.
Amazing board, worth the money
I bought this for my girlfriend hoping Ride would come through with something on par with my Ride Mountain.
Super high quality, it weighs next to nothing but is still stiff enough to handle agressive riding. I really don't know what else to say or what else you would want. It's awesome.
I went in search of a decent board with the only requirement being it was purple and lucked out with an awesome board she'll be able to ride for years.

BTW the photos don't do this thing justice. It looks soo good. The brown in the graphic is actually transparent showing the wood core and there is some sort of metallic purple "weave" in the black parts that reflect in the sunlight. It's really outstanding and I know you ladies have to look good before you'll get on the hill ;)
What is the board's width at the inserts...
What is the board's width at the inserts?
durable next level girls board
all you girls out there that are trying to get to that next level but are sick of getting the same old board sold to you then take a look at this board... a full wood core delivers unrivaled snap and durability while the twin shape helps give you the ability to choose to take the board wherever you wanted to take it... this board also has slimewalls! this means that this board will not only handle a ton of abuse, but it will also ride very smoothly at high speeds... this board will not only take you to the next level, it will take you there in a way that no other board can...