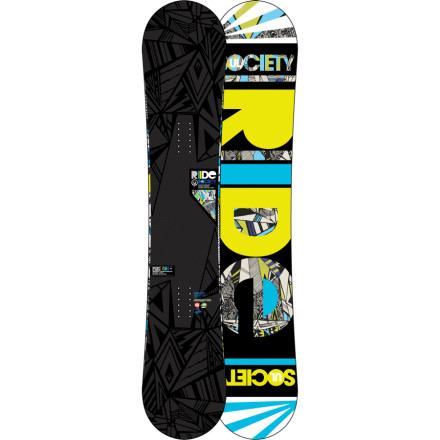 Unlike the rest of society, the mega-poppy, lightweight Ride Society UL Snowboard doesn't care if you smell terrible, pick your nose, or forgot to put on pants this morning. It just wants you to ride way too fast and get in the air as often as possible.
Camber construction lets you man-carve past the rocker-monkeys side-slipping down icy runs
85A urethane Slimewalls resist jib-related edge damage and offer a smooth ride
Carbon Array 5 in binding zones improves edge control
Carbon-wrapped urethane Pop Rods add ollie power without unwanted stiffness
Eco-friendly HempBrain topsheet uses less material to save weight… and the planet
Thinned-down UL Steel edges drop weight without sacrificing burliness
Are you on the fence when it comes to rocker and looking for a board that is going to be stable and perform all over the mountain?

Do you like a board that is snappy, responsive, leaves trenches behind you as you carve up the trail and is fast in all snow conditions?

The Society has been a go to board for riders for 4 years now. Every year it has had slight upgrades that have continued to make it one of the best performing boards on the mountain.

For 2010 Ride lightened it up with a hempbrain topsheet. Added response and dampness with the new poprod 3.0, added overall response and dampness with the UL Core adding additional carbon running linear and carbon array 7 in the nose and tail. The new UL base is light and fast in all snow conditions so while others are trying to push through slush or unstrapping in flats you'll be cruising right by them.

If you want a board that is very responsive that will perform all over the mountain the society is a board that you should be considering. FYI, 10.5 is the limit for boot size unless you are running a boot with a reduced footprint like the RFL or FUL.
I have to agree with Bernie on this board. I rode mostly rocker camber for the last couple of seasons and as soon as I hoped on the Society UL last season I remembered why camber has been around for so long, cause it works!! Every turn, bump, chater, rail, jump, drop, and additional MPH felt dialed. The pop on this thing is unreal. And with the new ultralight Hempbrane Topsheet you can literally nollie higher than most of your friend can ollie. With the weight reduction it also allows for insanely precise board control in the air. Get your shred-game DIALED. Get a Society
GO CAMBER!! Ride actually lightened up the Society this year with Hempbrain (Hemp top-sheet), UL base and UL Steal. Still snappy as ever with carbon array 5 and Pop Rods 3.0, the 2010/11 Society won't let you down!!
greatest board ever made!!!
this is hands down the greatest snowboard ever made. I have the choice of riding any board on the market and this is the one. This will be my 5th society this season. Every year it gets better and better. The shape is awesome! True twin with quadratic side cut. I can ride everything with this board. Park, pipe, BIG jumps, all mountain... I will always be a camber guy, unless there is a few feet of fresh. Nothing stomps like a cambered board. This board is a quiver killer. Even after hundreds and hundreds of days on this, it still amazes me. Super stable at high speeds and extremely poppy! Normally with stable boards they feel dead and have no pop, not this board. You can point it down anything with no chatter and ollie slow signs at the bottom. In my opinion, it doesn't get any better than this.
Just throwing it out there....
...In my opinion this is the Best board Ride makes. If you have to mow lawns, cash in your change jar, have a car wash/ lemonade stand all summer to to save up the extra money to get this board, DO IT! I promise you won't regret a single second. It is Super lightweight making it unbelievably easy to control on snow and in the air. Basically everything you could almost ollie on whatever else you ride, you will easily be nollie-ing on this thing, thats how much POP this board offers! However, Ride has done an amazing job at not making it overly stiff to achieve this pop. Best board in the quiver!!