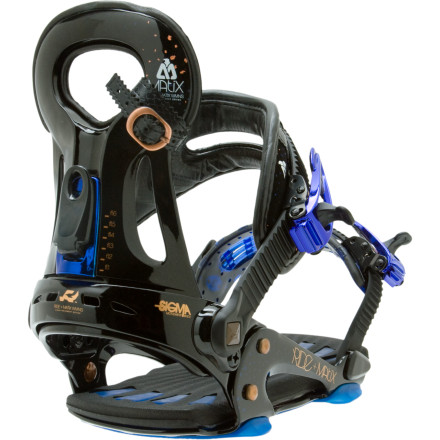 Detail Images
What do you think about this product?
Have questions about this product?
I had my snow board and bindings stolen on the hill this year so I had to buy new gear. It was an easy choice on the bindings because I loved my old Ride Sigma bindings. The new thing that had changed from my old Sigmas was the ankle strap. It is now split to make it more comfortable over the ankle/foot. If I rode a long or harder day, that was the place my foot might hurt. With these new Sigmas, I don't feel that at all. Kiddos to Ride...I love my bindings!
I have an older version of these bindings, had them for about 2 years and I love love love love them, great response, great fit, great comfort, great everything but I've had problems with them staying together. I think cause most of them are made out of aluminum the vibrations from the snow and hitting rails/landing jumps knock the screws loose a lot. I've lost screws so many times, and have to tighten them before every time I go to the mountain, just to have them loosen up after 2 runs. I have the bandita contrabands also, and as awesome as they are, they have the same problem.
this binding has everything that you need and nothing that you dont... this binding is basically the most stripped down, light weight, freestyle binding that you can get, while still maintaining a super durable overall binding... you get a mobility cored out ankle strap which means that you get a light weight heel strap with no pressure points... you also get a convertible grip toe strap that stays put anywhere you put it... a d lite highback fits a womens calf muscle with no pressure points and the right amount of response where you need it... a wedgie 2.5 footbed means that you have a lot more power in your ollies as well as lining up your knees helps with fatigue and pain... not to mention, this binding looks as good as it performs... look no further...