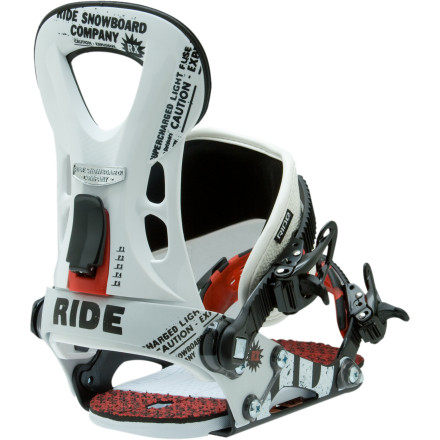 Detail Images

Community Images
Got these bindings last year they where super heavy making tricks way harder they where pretty stiff which got annying and lastly the baseplate stripped at the end of the end of the season
Got these bindings last year they where super heavy making tricks way harder they where pretty stiff which got annying and lastly the baseplate stripped at the end of the end of the season
These bindings are awesome. Rock Solid.
these bindings are pretty good, they are light, durable and have great impact pads on them. the only bad thing is, is that i need to tighten the screws almost everyday. They keep loosening and im scared a screw is going to fall out one day. You deff need a screw driver 24/7 with you. but otherwise great bindings!
Rode these all this season as an intermediate rider and pretty much thrashed them. The toe strap rubber was the main problem as it is was very sensitive as to where it liked to be cinched down or it would simply slip off almost immediately. Make sure you don't get any snow between the boot and the cap and double-check it before you head down. Next issue is the fact that the toe cap doesn't like to "de-cinch" once it's tight. Many frustrating moments wrestling with it at the bottom of the hill. Bottom line, Ride needs to fix the problem but if you're looking for a super stiff binding these are where it's at.
is this binder fit on Ride DH Board? and...
is this binder fit on Ride DH Board? and what size do i need to get if my boots size is 9.
yo, considering it's ride brand bindings...i'm pretty sure they'll fit a ride deck. the only company that goes kind of out of the box is burton, and these rides actually fit my 2 year old dominant. so as to the deck fitting the bindings i'm going to say yes.
to your other question... i'm also size 9, and i bought a size Medium, and they work out great. they come stock with the toe strap and ankle strap almost all the way tight....so make sure to throw on your boots when you get your bindings set up, and dial in how you want them to fit(instead of like me--getting off the lift to the park and adjusting the screws on my bindings like a gape)
Im wearing a size 12 dc boot right now,...
Im wearing a size 12 dc boot right now, but i normally wear size 11 shoes. Anyone been borderline between L and XL bindings and know which i should get?
the general rule if you are right on the edge is to go small and adjust the straps to fit your boot. If you go large it may not be possible to get the straps at a small enough setting to fit your boot and youll lose a lot of responsiveness.
What size boots fit for the Medium sized...
What size boots fit for the Medium sized bindings?
under the select options tag just beneath the price is a size fitting tab for each product
for all of your riders out there that punish binders and need something that will ride with the best of them but cant afford the price tag of the best of them... look no further... this binder offers an all around riding ability that most wish they could claim... this binder has a super responsive balance heel strap that combines response with comfort... a convertable grip toe strap gives you the freedom of riding the strap any way you want and the ease of mind that it will stay put... quick draw ratchets makes sure you dont have to worry about them keeping up with you and a free flex highback means that this binding will give you a ton of response without killing your calf... this binding can ride anywhere on the mountain that you can...