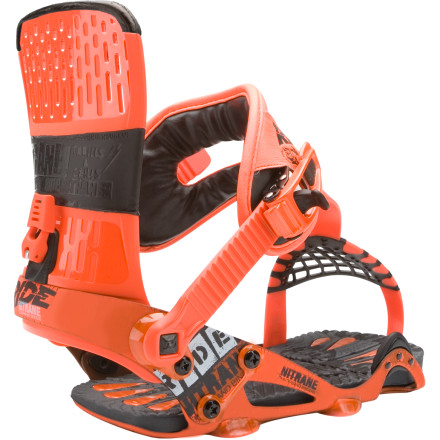 Community Images
Designed to deliver maximum freestyle mobility, the Ride Nitrane Contraband Snowboard Bindings let you tweak harder than an ex-prom queen in an Albuquerque trailer park. The one-strap design offers optimal side-to-side flex to help you style out grabs and presses like never before.
V-Grip strap uses super-sticky rubber to hold your boot in place while eliminating toe-strap pressure
Urethane Rollbar basepad dampens vibration, reduces impacts, and prevents topsheet damage
Wedgie 2.5 angled footbed increases ollie power and reduces knee strain
Stealth Highback offers reliable toe-heel support with tons of lateral flex
Multi-compatible discs work with 3-hole and 4-hole mounting patterns
Great Bindings, Fake Graphics
Although these are the best bindings that I have ever seen or used when I got them from dogfunk the v strap was white and the netting was black. Not a big deal, but I figure they should just make the picture right. I love these bindings so much though! I have been using contrabands for about 2 years now and the Nitranes used to be really sketchy and would break, but now they are the best bindings I have ever used. Great flex, but holds your foot. Amazing graphics, good fit to your boots and I love having only one strap!
My favorite binding to date.
I had last year's model and they felt so light and comfortable I had to try the Nitranes again. Last year's model had issues with the webbing and toe strap falling apart and I can say Ride completely solved that for this model. I've put 40 days in on mine so far and there is zero wear and tear on the toes strap or webbing.

The only complaint I can say about these is the plastic chrome plated pieces on the back of the heel cup do wear off their chrome plating pretty fast but it doesn't affect the performance or comfort of the binders in any way, just the looks.

I would totally recommend these bindings to any friends.
I bought these in an attempt to make it more efficient to slip my boots in. I found that I spent as much time putting these on, as I do my spi bindings. It took me a couple of runs to set the correct adjustments for my size 13 boot. Once I did, they worked fine. Nice binding but not as responsive as my spi's. Probably go back to them!!
Does the burton converter disc baseplate...
Does the burton converter disc baseplate fit in these so i can run them on my burton dominant?
the regular base plate for these fits on burton boards.
The Contraband has turned some heads the past few years and has had a few changes over the last season and a few features that might be right up your alley.

* New Stealth highback - This new highback is playful and flexes torsionally from the top all the way down to the heel cup which gives you a much better feeling while you're turning and spinning. But when you want to lean against it hard for fast turns it is responsive.

* Cored out ankle strap - When it comes down to it there is more room when you move forward for the ankle strap giving you more play/forgiveness.

* V-Grip Strap - The idea behind the V-Strap isn't for speed, while it is easier to get in and out of then a traditional two strap binding, the idea is Less = More. The V-Strap isolates your big toe and holds it down. When your Big toe is held down your foot can't lift up. Then Ride provides medial/lateral support so your boot cannot slide out and you get the same performance with less parts. Sure, there was a little hiccup last year with some straps breaking. Ride figured out what the problem was and fixed it and over nighted replacement straps out to those that had issues so the didn't miss any riding time. But the problem has been solved and you don't need to worry about that.

* Wedgie footbeds - An old idea brought back a few years ago. Wedgies help line you back up as wide snowboard stances take you out of alignment. This puts less stress on your joints and your legs don't get as tired as you ride. Also gives you great leverage to pop ollies on your board, similar to how you would on a skateboard. This is great when you're riding those rocker/reverse camber decks that lack a little in the pop department.

If you're looking for a binding that can handle any part of the mountain and you like a medium flex to them, you'll love the Nitrane Contraband.
After using Old switch step in crap back in the day and double strap bindings in the past seasons and Flow Bindings for 5 rides this season I opted to go with Ride contraband's when I purchased my new board this year. I was skeptical with the reviews I had read of the webbing and toe straps seeming cheesy.

Switch step in bindings were easy but packed with snow a lot and made it hard to step in and were crappy to begin with... Also, I was getting tired of regular bindings and strapping 2 straps at the top of the hill- sitting on my ass, plus snow would still get between by boot and the backing plate.

I went with Flow NXT-ATSE bindings on my old Burton Custom hoping to ease my strap in on the top of the hill. The Flows were sick looking and a good upgrade, but eventually were just as difficult to get my boot in and took just as long as two strap bindings- the problem I was having with flows were when i would pound my board to remove the snow inside them and this would cinch my flow bindings down at the strap... I couldn't figure this out for the life of me until my buddy said he was having same issues getting into them after he did that... but still, the flows were hard to get into at the top of the lift...

I set up my new Never Summer SL 161 with the white Nitrane Contraband's and hit the slopes yesterday to shred at Sierra at Tahoe... OMG.. these bindings ROCK! I made sure my local board shop I purchased them from fit them to my boots. They were extremely easy to get into and out of- especially if you bend and secure the strap to the inside edge of the base plate when you take your boot out to go up the lift.... They worked so well even my son wanted a set and started complaining about his Flows... Even if the webbing does happen to have issues for some I feel these bindings will be the norm in a few years. I was able to see next years Contraband's that my local shop were demoing and they had neoprene webbing and Velcro strapping with better material rather than plastic at the toe strap and were awesome looking... watch for Ride to change the webbing to better material and am sure they will offer these as an upgrade to any contraband's already in use... There is an enormous amount of adjustments to these bindings and it is suggested you have your local board shop who sells these and is familiar with them set them up to your boots... if you change boots you need to change the binding settings immediately. Youtube has some videos if you are doing it yourself... In Sacramento go to Clarks in Roseville...If you don't have contraband's I suggest you get them and stop sitting on your ass to strap your bindings.. Its a real pain in the ass waiting for people to get out of your way as they sit and strap at the top of the lift. I will also say that the look of the White bindings on my white and black Never Summer SL board looks crazy cool... they kinda remind me of Star Wars Imperial Trooper gear.. may the force be with Ride Nitrane contraband's.
The most comfy things ever on my feet. I've broken tons of straps over the years and these bindings are no different. Get a couple sets of toe straps and you'll be happy. Overall 9/10 matched with FUL boots and a machette.

Disclaimer: Shit breaks. Deal with it.
Webbing Breaks the Binding
I had 3 pairs of the Nitrane Contrabands and each time the webbing broke the plastic that hold the toe down. It's a poor design because the webbing cuts into the plastic instead of forming around it; therefore after you bend the plastic back and forth from putting the binding on, it creates a weak spot at every place the webbing wraps around the plastic until it breaks off and you have to wait for a new pair of bindings to come...
Very sick bindings recomended. Very to just strap one strap and be able to go. They are very durable bindings the front plastic strap may look like it would brake but it dose not. very great binding buy it for shure.