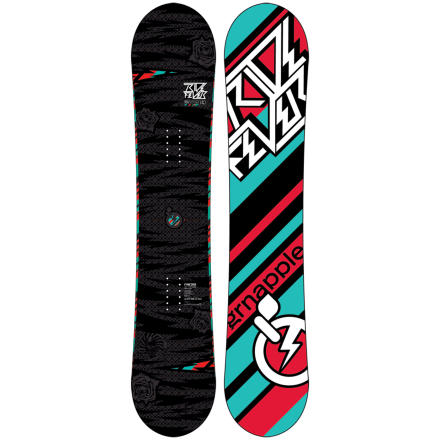 the girlfriend loves this board
This is a gift. she has been searching for a new board and this lives up to everything she has wanted. she really digs the slimewalls. this board also has stunning graphics.
I got the 147 board to replace my 150 RIDE Solace. I love the slimewalls. There is no chatter at all. There is a big difference between a freestyle Fever and an all mountain Solace. If you like to charge down the mountain or hit pipe or rails the Fever is for you. It carves like a champ. It is so responsive and it is the best board I have owned thus far. RIDE - Keep doin what you're doin!!
I got this board as a replacement for my K2 Duchess when it started to delaminate and I am completely in love with it! This board has great pop and can seriously launch you off of kickers--I was getting more air then the guys I was riding with! I use this as an all mountain board, its super fast and can hold an edge at a high speed. The slimewalls also do a great job minimizing chatter. I haven't tried it out in icy conditions yet but it does do pretty well in pow. Super playful board, great for more aggressive girl riders.
This board will add pop to any ollie. What a difference in launch power when you unexpectedly go off a kicker. The Pop Stix ready work! This board is sweet buttery goodness. My go to board for presses, jumps and just switching up my game. Very responsive both in and out of the park. This board can be ridden hard. You can really push this board to go fast despite its softer flex. The slimewalls remove almost all chatter. Except on ice!! This board is fun to bomb around the mountain, but at high speeds it does not hold an edge on ice. That being said, I can't stop riding this board... for now.
this board is set up for all you girls out there that lead the boys around the park and show them what to do... this board is super responsive without feeling like its going to kill you... its meant to hit big jumps, pipe, rails, and any drop or backcountry kicker that you can handle... and it does it with attitude... slimewalls reassures you that you have the utmost durability and dampness in the sidewall and have cleave edge to help lower the chance of breaking that precious edge.... carbon array 3 helps maintain edge hold in the pipe or at high speeds while helping the board turn quicker... pop stix help you fly twice as high and ollie any slow sign in front of you... this board is the ultimate freestyle board and can do anything you can do...