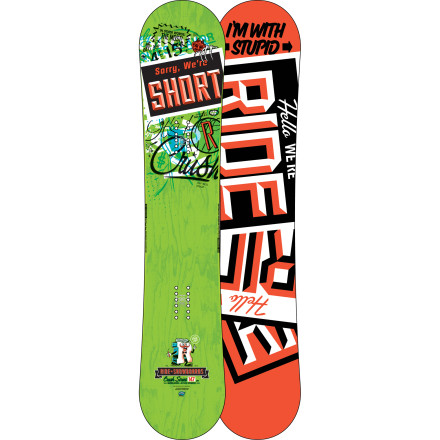 Ride's took some of its high-end features like Slimewalls, Membrain topsheet, and the super-tough Cleave Edge steel edges—all fit for slaying the steeps—and applied them to the park-friendly Lowrize rocker profile. The result, the Ride Crush Snowboard, is a surfy true-twin that wants to show off its skills all over the mountain.
LowRize rocker slightly lifts the lose and tail while remaining mostly flat throughout resulting in a smooth ride that's fit for the park
Membrain topsheet scraps the traditional topsheet to shave weight and produce vibrant graphics
SlimeWall urethane sidewalls work overtime to stand up to abuse from rails, rocks, and bonks with chatter-dampening properties as a bonus
Biaxial fiberglass provides a torsionally soft flex for jibbing with enough snap to pop off kickers
Cleave Edges use 50% more steel to resist dings and blowouts; the beefier edge also gives you flexibility with tuning
the ride crush is an all around good riding board the only thing from stopping me from giving it 5 stars is the top of the board around the tail and nose it fades pretty fast making the board look old fast.

but other then that.

it handles good easy to butter on hit jumps, rail, mostly super easy to recover on
Good All Mountain Freestyle Board
Ride makes plenty of boards for the serious all-mountain and kicker/pipe rider; but what about those snowboards who just want to jib around and have fun with their friends? Well the Crush fits perfectly into that category; it's lightweight, has a soft longitudinal and lateral flex and has plenty of pop at low speeds. If you don't take snowboarding too seriously and your ideal day is lapping the park and piste with a few friends then definitely check this board out. Beginner and intermediate riders looking for a board to progress their freestyle moves should definitely take a closer look.

SLIMEWALLS®:
Ride's exclusive Slimewalls® are forgiving and ductile, absorbing impacts rather than defending against them. Just like your skate wheels, the urethane in Slimewalls® smoothes the interaction with the snow, wood or metal surfaces you may Ride on. On top of all that, these babies are virtually indestructible, the most durable sidewalls in snowboarding.

LOWRIZE™
A twin rockered shape that just lifts the contact points out of the snow and has a nearly flat zone under foot.

MEMBRAIN®
Weighing less than half of traditional plastic top sheets, Membrain® maintains a smooth feel by infusing urethane into fabric. Along with pushing limits in the world of lightweight, this process also allows us to push the boundaries when it comes to graphics by utilizing the textures and aesthetics associated with a variety of fabrics.