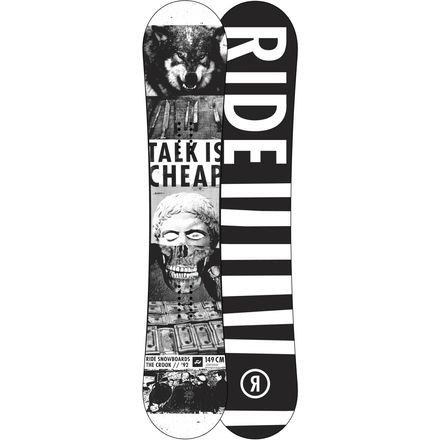 Colors

Videos
Description
Plunder the park, swindle the streets.
Make out like a bandit when you're spinning through the park, popping off side-hits, and jibbing urban handrails with the Ride Crook Snowboard. It's refreshingly simple design forgoes fancy carbon laminates and unnecessary features in favor of bombproof construction and easy-riding freestyle dominance. This twin-shaped board provides a soft, skate-like feel for destroying handrails downtown, pressing boxes with ease, and boosting ollies over slow signs. Incredibly catch-free, the LowRize Rocker lifts up the tip and tail contacts to alleviate hang-ups on boxes, rails, and hardpack. This profile remains flat underfoot, confidently tracking into freestyle features without any unnerving twitchiness throwing you off balance.
Staying tried-and-true to its freestyle heritage, the Performance Tuned core delivers tip-to-tail aspen for high levels of strength when you're thrashing it on a regular basis. Biax fiberglass keeps things super-buttery for stupid-easy presses and quick turn initiation between park hits. Increasing durability, the urethane Slimewalls take the brunt of nasty impacts and rail dings without blowing out prematurely or splitting. These soft sidewalls also smooth-out the board's ride when you're stomping landings and cruising over choppy snow. Add in a low-maintenance, easy-to-repair Fusion 1500 base for a board that's properly equipped for hardcore abuse in the park and streets.
True twin shape
LowRize Rocker (flat underfoot, rocker at tip & tail)
Performance Tuned core (tip-to-tail aspen)
Biax fiberglass
Slimewalls (urethane sidewalls)
Fusion 1500 extruded base