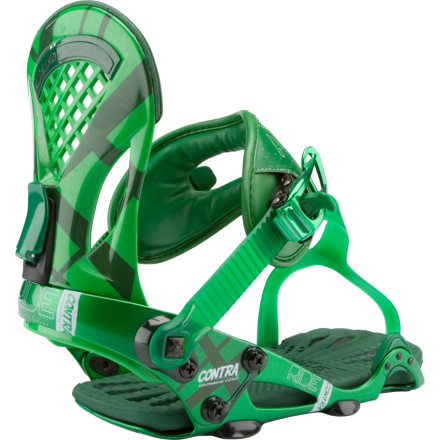 Community Images
The Ride Contraband Snowboard Binding's one-piece strap design reduces overall weight and boosts your lateral mobility for easier grabs and presses. Challenge your friends to a shifty contest and watch them weep in hopeless despair at your superior range of motion.
Balance Core Ankle Strap w/ attached V-Strap uses a single-ratchet design for lighter weight, faster strap-in time, and optimal side-to-side flex
Wedgie 2.5 angled footbeds increase ollie power and reduce knee strain associated with wide stances
Urethane Rollbar basepads dampen vibrations and reduce topsheet damage
ComfortFlex highback blends support and flex for all-day comfort
holds boot back and doesnt slide around at all. good design
i just got these bindings. they r metal...
i just got these bindings. they r metal dose that mean theyre more durable or less? and how fast will the paint peel
It is personal preference more. Ride is a great brand and makes great quality bindings. The metal is aircraft aluminum and the return rate is extremely low. If you do not hit the binding on things to chip the paint it should stay on for the duration you have the binding.
I use the Ride contraband Bindings when I am planning on spending most the day in the park. They are very quick and easy to get in and out of. I never had a problem with the normal v-strap band, but I have friends that use the "webbed" v-strap and the rubber began to break after a few weeks of riding.
Good stuff. Better than rear entry
These are real decent for the money. I rode a popular rear entry binding early in the season, and got tired of the hassle. I switched to these, spent 20 minutes setting them up according to Ride's video instruction, and took them out. My size 11.5 boot was firmly locked into the size 9-11 binding, and I had excellent control overall. The v-strap definitely locks the toe in... No question! The side adjustment must be dialed in correctly in order to keep your boot from slopping around.

Bottom line - adjust your bindings. Dont expect to take them out of the box and rock them as-is.
seriously, please save yourself the hassle and buy something different. You WILL NOT be happy if you get these. If you are looking for speedy entry, get Flows, these things are Loose, they are uncomfortable on the foot, and they do not fit good with many boot manufacturers...2 thumbs wayyy down on these from me!
Quality construction. Love the canted footbed - this was a first for me. Easy on and off. I was a little skeptical at first, but there is NO toe lift. Once these are set up correctly (which is very easy), you are locked in.
i have a size 11 boot so should i get the...
i have a size 11 boot so should i get the 9-11 or 11-13 binding
The 9-11 should fit your boot, but i would go with the 11-13. I have the Ride Deltas and I wear a DC 11. The 11-13 fit the boot better. The 9-11 your boot will have some over hang.
Disagree. Go smaller. If you buy the 11-13, you'll whine about your boots being sloppy. I am riding Contrabands (9-11) with DC Super Park boots, size 11.5. Great fit, no slop.
Unanswered Question
Does anyone know if you can buy the flexier...
Does anyone know if you can buy the flexier strap for an older model of this binding?
i got these bindings early this year after my setup got stolen out of my car, did the trick but imo there are much better bindings for around the same price, but dont get me wrong i still use them and they are still going strong.

no bad things to say about them
These may feel weird at first, but if you adjust them right you're in one-strap-heaven and you'll be one step ahead of all the fools who have to take precious pow pow time to strap in twice as much. The feel great, medium flex and have a great cushy foot bed.
Easy like Sunday morning...
Lets just put it this way, Contraband is the easiest in/out binding system I've ever used. Like hitting pow lines? you'll be laughing at your friends all the way to the bottom while they are still strapping in. Having a rail session? You'll be doing laps dialing in that new trick while your homies are working on getting their toe straps dialed. I've used this binding since it came out and it's great for every type of terrain. Balance Core ankle strap feels velvety smooth so you don't have to crank it down till your feet turn blue. Less time strapping in = more time riding. Simple as that