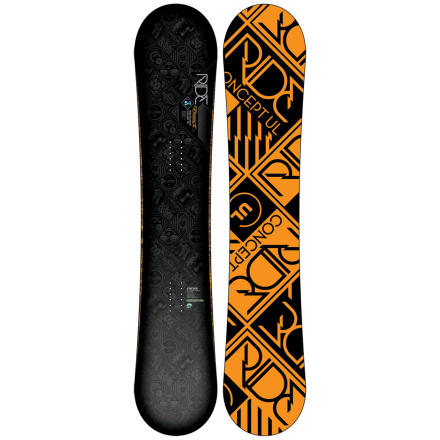 how much does the concept ul weigh?
how much does the concept ul weigh?
It would depend on the size you get. But this is definitely one of the lightest most aggressive boards on the market. Silencer 7, along with a membrain fabric top sheet makes this board light and furious on the hills. You won't be disappointed.
I have been snowboarding for 6 years and...
I have been snowboarding for 6 years and I´m those who prefer all mountain than freestyle, so I was wondering if this board would fit me.. I wheigh 171 lbs and im 1.78 m high. Thanks !
Best Answer
Lib Tech T Rice with c2 power banana, the best all mountain board out there. Its stable with camber at the tip and tail and magnatraction gives you amazing edge hold in any condition. once you get on one you won't go back
Whats the best bindings to use with the...
Whats the best bindings to use with the concept ul
Best Answer
union forces... all union bindings are bombproof, and they are the lightest out there
Definately go for a pair of Union Forces or Datas. Like Eastcoastrider said, they are absolutely bombproof. Suuuuper comfortable and never any pinching. These are bindings that you wouldnt mind goin to bed with :) Union all the wayyyy
This is by far the fastest lightest board on the market. and very stable as well, but doesnt chatter like you would assume it too.
this board is nuts! fastest base i have ever ridden. once i got into a tuck i picked up speed STABLE as all hell, but i slowed down due too the fact my mind was tellin me .. " hey, you haven't went this fast , this is too fast" lol its solid as well. landing on transitions is no problem as this board as so much pop once you land it springs you right up.. i don't recommend this for a park board at all. It can do the whole mountain, but its very stiff and slow speeds and doesn't maneuver well.. butterin... lol good luck
, ☃bcs_badge_alumni_label☃
High Performance, without the BIG BOY Price
I guess you don't need to fix something that is virtually perfect. Everything feature wise about the Concept UL has stayed the same from last year, including the price tag. While other companies are keeping boards the same and just changing the graphics and tacking on another $50 bucks this year, Ride isn't trying to pull a fast one on you.

This board is the most responsive board that Ride has in their lineup, but it still maintains a 7 out of 10 overall flex. The board features Carbon Array 7 combined with some tip to tail carbon stringers. It stays damp with Silencers between the carbon array and 90a slimewalls. The slimewalls also allow the sidewalls of the board to flex more naturally with the core of the deck giving you a much better feel under foot.

The Copper Fusion base is the fastest material Ride has produced to date. The pieces of Copper that are infused in the p-tex act as a cooling agent, when the base heats up from the friction that is caused when gliding over the snow, the Copper cools the base back down keeping it faster than even the best sintered bases.

Unfortunately this is a board Ride doesn't produce in a wide model. The waist widths max out at a 10.5 boot size, If you're a 11-11.5 check out the Ride FUL or RFL with the reduced footprint so you can squeeze onto the deck without plates.