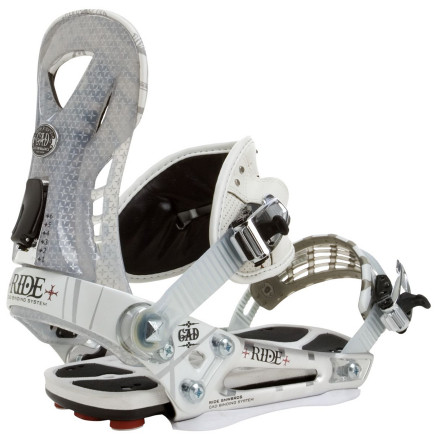 Community Images
Ride's Custom Flex Ankle Strap Video
All the other reviewers are correct. These are great and very comfortable bindings, but I do have a minor issue with them. The footbeds are very comfortable, but they are hard to install and you have to remove them whenever you tighten the screws on the bindings. Snow also have a tendency to wedge itself into the waffle pattern of the footbed and freeze there and it can be difficult to remove. They could also be a little bit lighter. Other than these minor issues I have mentioned these are pretty near perfect bindings and I would recommend them to anyone especially for those looking for more comfort.
I just picked these up last week to replace a pair of Burton Cartel LTDs. My old burton bindings used to give me a slight cramp in my foot and were way too soft for me (expected as they are for freestyle). The CAD binding solved that issue and got rid of all the hotsopts from having a tight binding.They are mounted to a Salomon Sick Stick 163 and seem to be right at home there continually interacting with the lively bamboo and doing everything I ask of them. I'm a pretty hard charger and wanted something stiff, light weight, and if possible environmentally friendly. I found everything I wanted in these. They do take some time to set up as they have have an infinite amount of adjustments. I am absolutely in love with them.. money well spent!Best part of these (as if the whole binding wasn't killer) has to be the footbeds. I have had a pretty nasty knee injury/ surgery and being able to dial in each of the for corners so my knee does not hurt is beyond gold! If you have not looked at the website to learn about all of the unique features these have, you really need to (www.ridesnowboards.com)!
I had 08' CAD's on my Never Summer Legacy till recently when the bottom of the highback snapped on one of em'. I've been so stoked off the CAD, that I decided to buy the 10' version. Adjustability options are rediculous & stiffness just can't be matched! Only issue for me is the ratchet's.. I like my straps super tight, & I just can't seem to tighten em enough. Also, metal "CAD" emblem on backside of highback randomly fell off.. I just simply reapplied w/ a strong adhesive.. The performance of this binding surpasses these minor defects by far. Hope these badboys last as long as my 08's did! Congrats RIDE to one helluva product!
These bindings are awesome...very comfortable and responsive. When you carve, you'll feel the power and the responsiveness of them. I've used Burton Custom for the past 3 years and they're crap compared to these.

I wear a size 8.5 Nortwave Legend boot and got a size small. Awesome fit. These are definitely worth the money.
Take advantage of all the adjustments
These bindings are the best I have ever owned. I have surfed for 25 years and boarded for 17 years and have always liked a narrower stance (mainly for style purposes). I understand the problems this creates but I have worked them out throughout the years. However, with these binding the wedgie footbeds are totally adjustable. Which has allowed me to ride a wider stance without me feeling like I am "FROGGIN IT". Tuck knee is important in my world and the footbeds are cranked inward @5. Also it matches up extremely well will my T-6 the damping systems coupled with these bindings is the @#%.
I mounted a pair of the 09 Ride CAD bindings to my Lib Tech Dark (164W) at the end of last year. They are a little difficult dialing in but when you finally get them set up, man are they comfortable. If you buy these, be prepared to be constantly tweaking as they have an infinate amount of possibilities but after one full day, I got mine dialed in and am very pleased!
I just got these but have to send them back for a size XL. So keep it posted here if you need a set in Large. Anyway, these binders are rad and I can't wait to use them. They look great and have tons of little features. Seem to be of high quality construction.
the cad is the all mountain riders dream... if you are looking for the most customizable, responsive, comfortable binding, then this is what you have been looking for... with a powerflex highback, you wont feel any lag time in your turns... the custom balance ankle strap means that you can adjust the strap flex to fit your type of riding or the type of snow thats being offered to you... you can stiffen it up down the center for more direct response or adjust them around the outside to give you a more comfortable response or just space them all out around the strap to get the most all around response possible... a convertible grip toe strap helps keep your toe strap in place at the highest speeds or biggest cliffs you can attack... and then the best part, this binding has a custom footbed... this means you can adjust the binding to lean anyway you want... forward for more toe side power, all up for bigger feet, in or out to get more power out of the nose and tail or to just get more comfort for your knees... what ever your liking, this binding can adjust to it all...