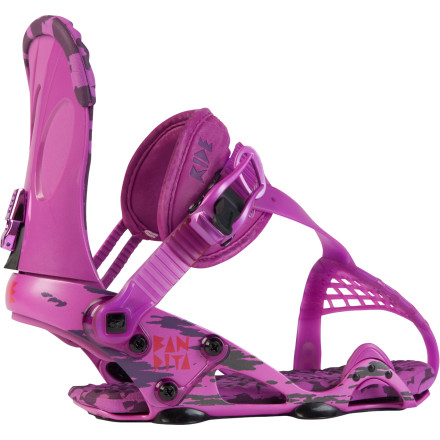 The Ride Women's Bandita Contraband Snowboard Bindings tighten up with a single ratchet, stretching the V-Grip strap snugly over the toe for insane comfort and control. Smuggle some beers into the park and go to town on these flexy, shock-absorbing binders.
ContraBand Chassis is lightweight and offers side-to-side flex with heel-toe response
V-Grip Toe Strap tightens along with the ankle strap for a consistent fit
Balance Core Ankle Strap features 3D EVA padding for lightweight cushioning and support
Wedgie 2.5 Footbed creates a pop-inducing advanced freestyle stance angle
Urethane Rollbar basepad provides extra dampening for park riding
I found these so comfortable and very responsive. The one strap is so fast to get in and out of and it's very secure. I have smaller feet (size6) so I don't know if that made a big difference in the fit/ comfort. My guy friends didn't like using them. Disappointed they were discontinued. I switched back to 2 strap after two seasons in my contrabands and I really miss them.
hey man is there any reason why a guy cant...
hey man is there any reason why a guy cant use the ride banditas
The only reason would be fit. Women's boots and bindings are designed narrower. If you ride men's boots, they probably won't work in the Banditas. With so many options out there, there's no reason to force the wrong binding to work for you.
I love these bindings. The one strap is genius, so fast but also really does the job. I will never switch back to a two strap binding. love love love!
They may look different but they work like a charm. The one strap is so nice and you dont loose support, it actually holds my foot better than a two strap binding. The bandita is soft when you need it to be in the park and responsive through the trees. You really couldn't ask for a better binding.