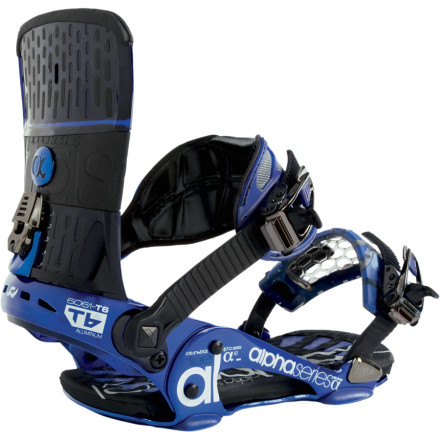 Packing all-new features designed to upgrade your freestyle flow, the Ride Alpha MVMNT Snowboard Bindings represent the pinnacle of flexibility, customization, and control.
Movement System Chassis(baseplates) provide full-flex mobility in all directions in the lightest weight, burly aluminum package you can imagine
New Stealth RS Highback is lightweight, thin, flexible, and burly Mcburlson; designed for freestyle rides who enjoy all-around performance and extra help on the heel-side
Wedgie 2.5 footbeds give you extra ollie power so your freestyle moves are more effortless than ever
Urethane Rollbar basepads protect against high impact landings and chatter
New 3D Thingrip toe-straps deliver an intimate connection with your boots that can be converted to over-the-top old school ninja style
Share your thoughts
What do you think of the
Ride
Alpha MVMNT Snowboard Binding
? Share a...
A like to ride pow and some park. How would...
A like to ride pow and some park. How would these things handle the pow?
I have the deltas and they are very alike. the ride mvmnt series are some of the best all mountian bindings you can buy. the aluminum base plate, flexy high back, and toe strap offer tons of control without cutting off blood flow. lots of adjustments for any style.
I like to butter and hit big airs
How's...
I like to butter and hit big airs
How's the flex on these badboys?

I rock thirtytwo Lashed 9s, and I see you only have 7-9s left

Would they fit?
thanks
The flex is definitely medium (about a 5 on a 1-10 scale) on the Alphas, and it sounds like they'd be perfect for what you want to do with them. I use mine in the park on big tables and also butter like crazy all over the mountain with them. The highback is much more flat this year which makes it easy to tweak grabs and butter while still maintaining solid response. As for the size, 9's will fit, but you're pretty much going to max out the binding, however, one size up (9-11), and your boots would be swimming in them.
I you were giving a ride binding to your...
I you were giving a ride binding to your son for Christmas, is this a good choice.
The Alpha has been a long time favorite of mine. The Mobility Thinflex ankle strap is the most comfortable strap Ride makes in my opinion. If we are at a demo and I get a chance to take some hot laps, I'll almost always toss a pair of Alpha's on whatever board I'm riding. And the new Stealth RS Highback is hands down the best combination of comfort/response I have ever felt from a highback, ever. A nice amount of support down low and a nice flexy top make this binding a perfect all mountain ripper. And what about Wedgie footbeds?! Direct power transfer x10. They make riding so much easier which means you can ride harder, longer.