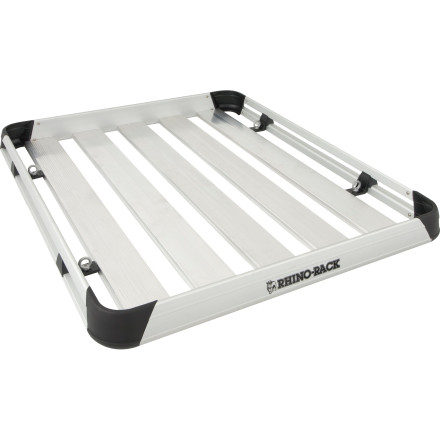 Description
Tough like a rhino.
Unlike other flimsy roof rack trays that can fold under pressure, Rhino Rack built its Alloy Tray & Fitting Kit with structural aluminum and reinforced nylon to handle a lifetime of adventuring over muddy, bumpy, and gnarly roads. Just pick the size you need to accommodate your gear load, decide whether you are attaching it to Rhino Rack Aero or HD cross bars (sold separately), and then get ready to drive off into the sunset.
Non-corrosive components stand up to years of road grime and salt
Aerodynamic design helps reduce wind noise and saves gas on longer trips
Multiple tie-off points make it easy to fasten your gear to the rack
Included Fitting Kit is easy to install and locks the Alloy Tray down tight for a secure fit; just select whether you're fitting the tray to a set of Rhino Rack Aero or HD load bars (load bar kit sold separately)
Please note that for the Alloy Tray to fit properly, the space between your two load bars cannot exceed 31.5in for the 39 x 30in rack and 39.5in for the 47 x 30in rack; cross-bar spacing is rarely an issue with larger tray sizes
Bought the Rhino Rack Alloy Tray for a trip to Arches National Park campground. I needed more room for a cooler, wood, and a tent. Used a netting to secure the gear. I had plenty of room in my SUV for items that needed to be kept dry. The tray is very easy to install on Aero racks but I'm sure other racks would accommodate. There is some "whistling", but I'm sure that's true with all racks. Light weight and easy on and off.
Unanswered Question
Would this install onto a type 2 VW bus?
Would this install onto a type 2 VW bus?
My Mercedes GLK 350 came with round Mercedes...
My Mercedes GLK 350 came with round Mercedes crossbars. How can I fit a Rhino-Rack to it?
there are plenty of racks out there that will fit your Benz...this one included. I am a BMW guy myself...and as such, i recommend asking the people you bought your car from to fit your benz with a rack so as not to void factory warranty....especially before taking advice about roof racks from some dudes that hang out and answer questions on some website that sell them.
Installation Instructions - ALLOY TRAY