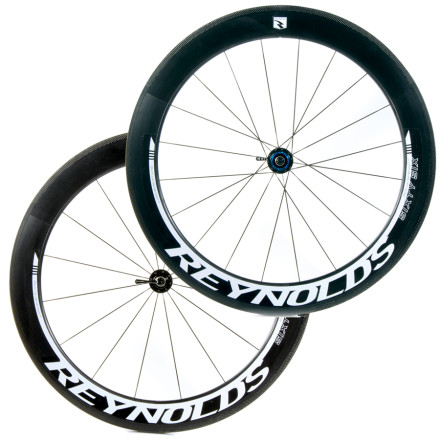 Detail Images
Flatlanders, time trialists, and triathletes rejoice. A deep clincher that is adept at slicing the wind and minimizing weight is a treasure and brought to you by Reynolds in the form of their Sixty Six Carbon Clincher Wheelset. Their 66mm is closer toward the deep end of the rim scale, and the nice thing about them is that they help you move into warp speed when you're already in the big meat and bearing down on your goal. Thanks to Reynolds' ultra light laminate, you get a light wheelset that slices into the wind like a Ginsu knife.
These rims have the same basic shape as their 66mm tubulars, just with a cavity for clincher tires to sit in. There are lots of smart design features in this shape, a strong lay-up that is very light, an aero shape that presents little obstacle to the wind, and internal spoke nipples which both strengthens the rim and improves aerodynamics. However, they upgraded the wheels to reduce drag and improve braking.
The Swirl Lip Generators are a patented Reynolds feature and are two tiny lips on either side of the arrow-head end of the V-shape aka the trailing edge. If you didn't know better, you might think they were parting lines that weren't sanded down after the rim came out of the mold. There's no sanding forgotten, and they're hardly an accident. The SLG creates turbulence that helps the airflow reattach faster behind, after passing over the rim. They also have the effect of decreasing ...awesome! The convenience of clinchers and a truly slippery aero shape plus greatly improved braking performance... sideways air force on the rim, and in so doing, make your bike easier to steer in crosswinds. This means it takes less concentration and less strength to pilot the bike, which means you can devote more concentration and more strength to going fast.
The second big change is their new CTg brake track. C is for Cryo, Tg for glass transition temperature. As you know, heat build-up is not a good thing at the brake track. For clinchers, heat build-up can lead to deformation of the rim at the brake track, which can lead to a tire literally blowing off the rim. Another worry is brake pads melting in the heat. The new CTg tracks are the result of a new resin system and a new laminate structure. In regular riding conditions, it means the brake tracks operate up to 100°F cooler than the old tracks. In other words, braking will be better, more consistent, and you'll have little to fear from braking hard on long descents.
The rest of the wheels are equally high-performance. The rims are drilled for internal spoke nipples. As the hidden aluminum nipples present less of an obstacle for the wind and the rim has smaller holes in it, it's both faster and stronger. The spokes are DT's bladed Aerolite, both front and rear. They're laced with 16 radial spokes in front and 20 cross-2 drive and radial non-drive rear. DT also makes the hubs for Reynolds. These are the 240s model -- light, strong, smooth, and durable.
All Reynolds wheel owners can buy themselves some extra peace of mind by purchasing Reynolds' two-year damage protection plan. It's called RAP, short for Reynolds Assurance Plan. The insurance means you should have little fear that a crash will ruin your wheel investment. Find out more about it on the Reynolds Cycling site.
Reynolds recommends using their plastic tire levers for mounting and removing tires. They state that other plastic levers can be used -- no metal tire levers. They also recommend their rim strip, because it's thin, which makes tire installation easier. It comes installed. A 48mm Presta valve will allow you to pump up the tires without issue. Maximum tire pressure is 150psi, though you'll probably never go this high anyway.
The Reynolds Sixty Six Carbon Clincher Wheelset comes with either a Campagnolo or Shimano/SRAM compatible freehub body, and they include a full set of Reynolds' Cryo Blue brake pads in versions to match each. Reynolds recommends only these pads as they were designed with the brake tracks; use of any other brake pads is not recommended and will void the warranty. Reynolds includes their new ultra-light quick release skewers, valve extenders, and a spoke wrench.
Reynolds-branded DT Swiss hubs are durable, lightweight, and smooth-spinning

Swirl Lip Generator technology increases aerodynamic performance by keeping air from sticking to the wheel's surface

Included Reynolds Cryo Blue brake pads and improved brake track provide excellent braking performance

What do you think about this product?
Have questions about this product?
What wheels would you recommend for a...
What wheels would you recommend for a strong cyclist (just a little out of practise at the moment due to work commitments) Currently living in Austria so riding hills and cobbles (home Perth Australia). Bought a nice top of the range Pinarello but wheels keep popping spokes.
Likes the Mavic series!

What would you recommend for 100kg guy - price no object if the wheels are top quality.

Will return to Perth at end year so back into racing then - would like light and fast

Could you give me some clues Please

BR Julia
In my opinion a person that is 100kg(220kg) that has problems with spokes yet wants a fast wheels you need to look into a hand built custom wheelset with no less than 28 spokes in the rear and 24 spokes in the front. You are not going to find this with a mass production wheel because they are not designed for you.

I would recommend Enve Composites 45 series clinchers with 28 spokes in the rear, 20 in front. Google the words 'custom wheel builder enve' to find out who can build it for you.