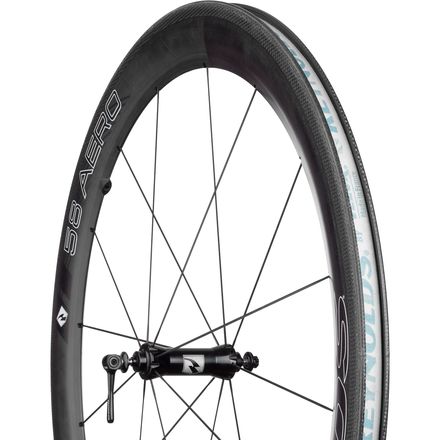 Colors
Description
Turning wheel aerodynamics upside down.
Reynolds is using what it calls Dispersive Effect Termination (DET) on the Aero 58 Wheelset to eliminate the drag-increasing balloon effect caused by tires being wider than rims. This delivers an aerodynamic benefit, increases lateral rigidity, increases your comfort, and decreases rolling resistance. The Aero focuses on mitigating turbulence, not accepting it like other manufacturers do. Testing performed at the A2 Wind Tunnel shows the Aero experiencing less drag in watts at 30.75mph, at every conceivable yaw angle (0-18 degrees), than any offerings from Zipp, ENVE, HED, and Easton.
This means that the Aero's handling "sweet spot" is extended to a window of 7.5 degrees higher than the competition. One of the most amazing things about this new design is that as you go faster you don't have to exert as much energy to propel yourself forward—the design starts to feed off the drag itself.
Reynolds believes that every wheel needs to follow four engineering guidelines. The wheel must be lightweight, yet structurally sound. It must reduce turbulent airflow in order to create a low-drag system. The aerodynamic efforts cannot compromise the steering and handling of the bike, and the wheel must generate an aerodynamic advantage from its lift-drag ratio.
Dispersive Effect Termination design
Crynogenic Glass Transition Braking System
Cyro Blue brake pads
Either Shimano or Campagnolo 11-speed freehub compatibility
Includes two pairs of Reynolds' Cryo Blue Brake Pads
Wheelset warranty void with use of any other brake pads
Hoooo Waaaa! Hooo Waaa!
Familiarity:

I've put it through the wringer
Upgraded to a set of Reynolds 58 Aero's on a 2-13 Trek Madone 5.2. I'm Running 700 x 23 Continental Gatorskins because I primarily ride in the west Phoenix desert and deal with cactus spikes. The Gatorskins have been flawless. A pure race tire will shave a tad more weight and add some performance at race speeds but Ill take the trade in outright flat protection.



The bike and ride have been totally transformed. In addition to a noticeable significant weight savings from the already decent stock wheels, there is also a noticeable difference in speed. Although these are are very deep wheels cross winds seem to affect them less than the stock ones. The stock Reynolds free hub on this set is set up for SRAM/Shimano 11 speed cassette. My particular 2013 Madone 5.2 runs a 10 speed. I am running an 11/25. This set up requires the use of a 1mm spacer. All carbon wheels require carbon specific brake pads. After changing out the brake pads both calipers required readjusting to accommodate the 58 Aero's slightly different dimensions. The whole process took 30 minutes. Carbon wheels are not a necessity and are likely the most expensive upgrade one does for a bike. But if you are serious about your riding and bike regardless, this is the one upgrade that will do more for your bikes outright performance than anything else. Wether you race or not these wheels are worth every dime!