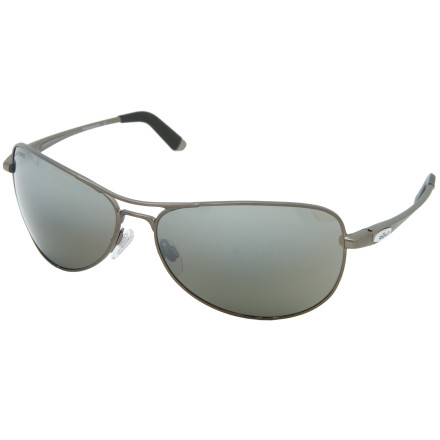 Detail Images
The Revo Transom Polarized Sunglasses' thin, scratch-resistant 1.8mm glass lenses and superlight alloy frame take aviator style to the sport field. Slip the Transoms on for your mountaineering trips or your first solo flight.
Serilium lenses withstand high-velocity impact from gravel
Polarcast polarization technology handles glare off water, snow, and sidewalk
Nickel-silver alloy frames are lightweight and corrosion-resistant for comfort and durability
Element Shed coating helps keep lenses clean despite finger-oil, sweat, and mud
Anti-reflective coating eliminates light that is otherwise reflected off the inside of the lenses
Spring hinges make for a comfortable, flexible fit
Unanswered Question
What are the dimensions on these sunglas...
What are the dimensions on these sunglasses?
These are my first polarized sunglasses that i have owned. awesome awesome awesome. the only bad things i can say are that after wearing them for a while, they start squeezing my nose (i do have a big nose...) which just means i have to keep adjusting to relieve the discomfort. in addition, i cant see my cell phone screen when i wear them. I have no idea if anyone else has this problem, but i have to tilt my shades to see who is calling/texting. for everyday wear they are great though
I used Ray Ban since I was 15, I am 43 now, and all other brands make me head hake, as a photographer I am very careful in what lenses I should use.

Last week I bought Revo Transom, brown polarized lenses beside the weight, (is a little bit heavy), it is a very comfortable , and the lenses are superb.Very bright, and eyes friendly

They are original, fashion, and conservative enough to use it for long time and I stop to felt like one of the small group of billions with ray ban sunglasses.

Good: Resistant, lenses, contrast, polarized, frame estructure.

Bad: weight, finishing around the lenses, manufacture split glue inside frame.
Fast shipping and great deal!
Do you have the light/cobalt ones also?
Do you have the light/cobalt ones also?