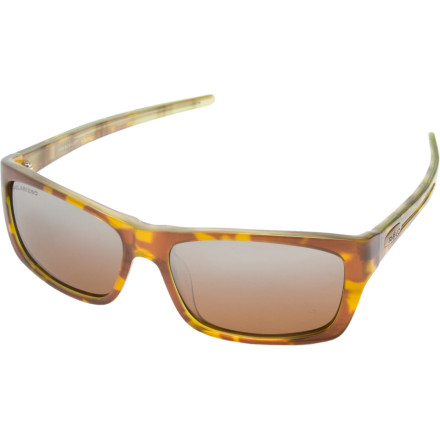 Detail Images

Community Images
The Revo Headwall Polarized Sunglasses use the same technology to protect your eyes that NASA relies on to protect its satellites from destructive UV rays and space debris. So when it comes to your eyes, you can trust the high-quality Polarcast lens to save your cornea from damaging light and intense glare while promoting unrivaled clarity and light reflection.
Polarcast 1.8mm-thin glass lenses provide exceptionally clear visibility and total UV protection as well as much more scratch resistance than plastic
Element Shed hydrophobic coating ensures virtually anything will roll off the surface of the lens
Anti-reflective coating on the inside of the lens eliminates light bouncing off the lens
Motion-fit system balances pressure points to keep the glasses in place during physical acitivity
This is my fourth pair of Revo's. I destroyed the first pair, wore out the second pair, and lost the third pair. In between, I've shelled out for designer brands, RayBans, and the last pair was Maui Jim's. My eyes screamed for Revos. The HUGE difference? ALL other polarized lenses distort, however minor, my view. Looking at the high reflection off of pavement and notice the contrast is strong? With Revos, you don't see it. NO distortion, NO color misperception, NO glare--just a perfect shaded view. Yes, they cost a lot. But if you take care of your sunglasses and don't leave them behind, Revos will give you the best value for the money. Unsurpassed. They are the BEST.
These are tight on my head, had my local favorite opthamologist tweaked them to fit better, will have to see him again; same quality as my quiver of lost Persols, seeing that they are owned by the same people, therefore must of used same factory.......Oh But its the len's you by REVOs for...........sweet
I like these shades. A little tight around my big noggin, but they seem to stretch or adjust to my head over time. I love the look, the weight, and the lens. Unfortunately, I have lost them - so at $250 per set you have to evaluate are the worth the money? I am trying to decide that now. I have been looking and continue to come back to the glasses I like. It is not worth spending $150 on glasses you do not like if you know you want the real deal. So if you have the dough use it. I did on two pair.
The only brand that has intrigued me that seems to be a little less $ is the Mosley Tribe - but do not know if it is really better or just cheaper. So I will buying the real deal.