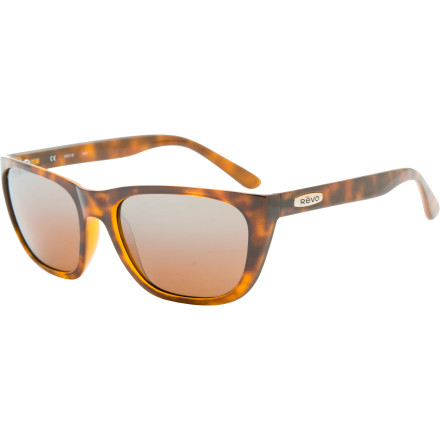 Detail Images

Videos

Community Images
Were the sixties grand? That's debatable. Revo Grand Sixties Sunglasses are grand, not to mention grandé. Don't let the retro styling fool you, the Grand Sixties are packed with high-tech, modern features.
Ultra-thin glass lenses offer incredible clarity and light weight
Anti-reflective coating eliminates distortion caused by reflections from behind the lenses
Hydrophobic coating sheds liquid like a duck's back
Revo Polarcast eliminates glare
What do you think about this product?
Have questions about this product?
Revo Grand Sixties Sunglasses
the best of both retro worlds
It's no secret that the outdoor optic industry isn't very well known for its originality - often resorting to regurgitation on vintage-inspired designs. However, when done right, an homage that recognizes the strengths of its inspirations and improves on them, is always more than welcome. Thankfully, the Grand Sixties fall into the latter. This sunny is unabashedly a sly blend of two of the most celebrated and imitated designs on the street today: the Oakley Frogskin, and the Ray Ban Wayfarer. The frontal frame profile and slight horned lens taper slightly hint 'wayfarer,' but the sportier temple arms and pristine optics (thanks to Revo sharing a fair amount of its lens technology with its parent company Oakley) are all a modern, heavy-handed dose of Frogskin. There are two points worth making that set the Grand Sixties apart from the mold: firstly, the glass lenses are phenomenal - on par with the standards set by Maui Jim or Costa. Coming in at 58 millimeters, these lenses are hardly small, but not as awkwardly pie-plate large as the Frogskins appear on some faces. This naturally universal fit is also accomplished due in part to a deeper base curvature compared to the flatter profile of the Wayfarer or Frogskin. And secondly, the frame is constructed from recycled nylon plastic, making them lightweight, without compromising a supremely durable feel (a complaint common from Frogskin wearers). Another blend of those two iconic styles, the frames also feature bulletproof stainless steel hinges, ensuring the arms stay in place on any adventure.

In order for a frame to metaphorically withstand the test of time, it must first literally withstand the test of time, and I wholly believe the Grand Sixties are up to the task.
includes super heavy-duty carry case