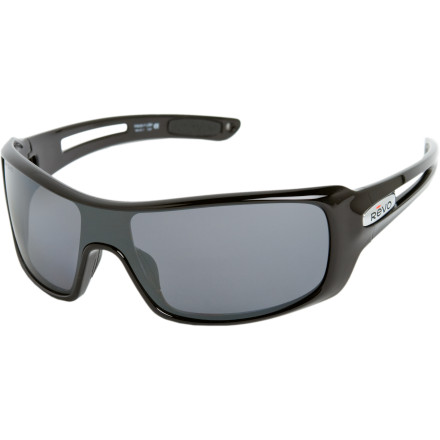 Detail Images
If you spend a lot of time on the water, the quality of your sunglasses can make a vital difference in your day. And if your sunglasses are specifically designed for use on the water, all the better. That's why Revo made the Backbay Polarized Sunglasses with a super-secure fit and top-notch polarized lens technology.
Serilium lenses use highly purified polycarbonate for excellent clarity and durability
Revo High-Contrast Polarization and Anti-Reflective lens coating cut all glare from your lenses, even reflected light that sneaks into the interior of the lenses
Element Shield lens treatment means sweat, grease, and water won't stick to the lenses
High-grade nylon frames are molded from recycled materials for boosted sustainability
Stem socks and pads at the nose and temples grip well even when you perspire
Removable leash helps you keep your shades secure when you wear them on the water
See sizing chart for lens color information
What do you think about this product?
Have questions about this product?
I've been an Oakley fan all my life. I saw these (new to 2011) Revo Backbays in a Mens Health mag, and knew right away they would replace my current pair. I snowboard, hike and trail ride and I need something that is going to perform as well as they look. Let me tell you, these shades are a 10. Thumbs up to Revo for creating a pair of SG that look great and function even better. Remember the movie The Mask? When Jim Carry put the mask close to his face and BOOM, it grabbed him and wrapped around his skull? This might be a bit of an exaggeration, but its the first analogy that popped into my head when trying to describe the way these Backbays fit on my face. In closing, go try them on, look around the mall or wherever you find them and then take a look in the morror. I have the blue shield shades and I've got one word for you..TRON..Bada$$...