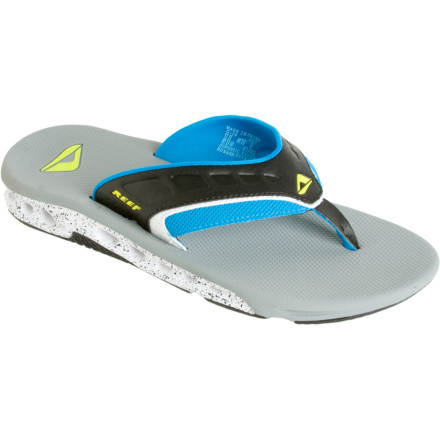 Detail Images
Like the pride of a racing stable, the Reef Men's Vision Sandal leads the pack in performance, comfort, and style. This hi-tech sandal goes places you never thought a sandal could, so get used to the idea of never taking it off. With soft water-friendly nubuck leather caressing the top part of your foot, and a contoured EVA footbed delivering proper arch support and total serenity, the Reef Vision Sandal stares beyond the typical and into the realm of extraordinary. Reef even added an impact-absorbing Tunnel Vision cartridge and a lightweight grippy outsole, so you don't have to hold back when you're your pistons are firing.
A Great sandal for Summer or.....
A great sandal for sure. Have enjoy the purchase, they are comfortable and sturdy, a great walking sandal. I was skeptable, but I was pleasantly surprised. The spaces in the heal are perfect which add a bit of a cushion when you spend all day in them. They are durable and quite sturdy. I will purchase another pair when these bite the dust. Maybe sooner!
Love these shoes. I had a hard time finding them. I may order another pain
best sandals ever. enough said.
These are great sandals ONCE they are broken in. The slot piece that goes in between your toes is very rigid at first. It's pretty uncomfortable to wear at first even. It will take a good month of consistent wearing for it to finally break in. But once it does, these sandals are very smooth to wear.
REEF VISION SANDAL- MEN'S
4 out of 5 stars is my rating thus far. I recently purchased my Reef Visions and as an advid fan of sandals I felt as if I spent to much money for this product. Never the less my feet love them thus far. I wear them everywhere including the rain and to work. The are comfortable and I look forward to seeing how they age with time. I reccomend them however see if you can spend a little less money on them if you do plan on purchasing this good sandal.
I think I could run a marathon in these....tight fit, almost too good. makes you wonder about the boys over at reef - hmmm