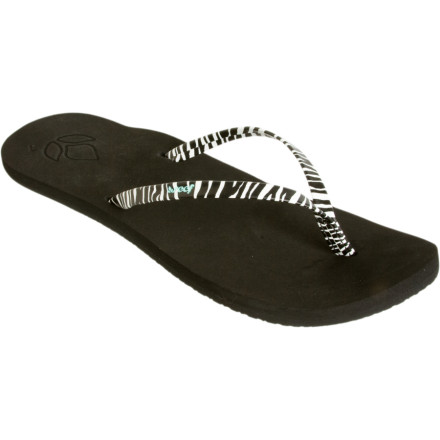 Detail Images

Videos
When it's time to make a quick getaway to the beach, slip on the Reef Uptown Girl Sandals. A low profile makes for minimalist design, while spunky prints help express your personality.
These run extremely small. I generally wear a 7 in Reefs so I bought these in an 8 based on the reviews. My foot extends off the ends of the sandals. I have been trying to find someone to take them and they are too small on everyone that I know. Given the price of the item, it is not worth it to pay postage to return or exchange. Hopefully Goodwill will be happy to receive these...
Reef Uptown Girl Sandal - Women's
Perfectly serviceable and they fit the line up of flip flops my wife enjoys. She does not report sizing issues, but it seems other do. She has a small narrow foot.
These are pretty comfortable due to the awesome squishy soles. I agree that they run small and size up to compensate. I find them a little dressy since they are so shiny.
I own multiple pairs of Reef flip flops. These ran extremely small (at least a full size smaller). I ended up giving them to a coworker. :(